Blog
June 11 2022
5 Successful Brand Ambassador Program Examples
Read more
Best Brand Ambassador Program Software, Websites and Platforms
Duel.Intelligence, Duel's research and boutique advisory division, summarises the landscape of the technology for running Brand Ambassador programs within the B2C space.
In today's digital climate the use of social media marketing is a vital part of the modern brand's marketing arsenal. In part, this is due to changing attitudes towards traditional advertisement - with many millennials indicating they don't trust or enjoy the experience of traditional advertisements. They do, however, respond positively to marketing from their favorite digital personality as this type of marketing is opt-in, or permission based. An opt-in/permission based message is experienced as fundamentally different, and most positively, than the paid-for equivalents.
By working with digital personalities, brands are able to create cheerleaders for their business, a tactic that is effective due to the perception that a digital personalities choice of brand affiliation is based on their true opinion. In some cases, the effectiveness is moderated to what degree that is indeed the perception of the audience. Thus, digital personalities can have a more intimate, organic, and effective reach than digital advertising.
A brand ambassador program is the structure around creating relationships between a brand and a digital personality. These programs can be temporary partnerships or ongoing relationships, however, the phrase 'brand ambassador' is usually used in the context of a long-term partnership. The use of brand ambassadors are therefore a unique type of marketing campaign that puts your company's message or product in the hands of digital personalities with a specific goal in mind, which can include increasing your sales, creating brand recognition, or building a community.
The structure of the article will be as follows. First, we'll breakdown the different types of digital personalities your brand can work with, including their definitions, and various pros and cons. Then we'll dive into what a quality management software program should include, and examine a few management software options in order to ascertain the correct choice to best fit your brand's specific needs. Specifically, the research finds there are distinct options depending on who your brand ambassadors are - either simple affiliates, micro-influencers or passionate customers.
Types of Digital Personalities
You've established that you want to start a brand ambassador program, but what kind of digital personalities do you want to focus on? There are a variety of options within the social media spectrum, each with different pro's and con's:
Influencers
What They Are
Influencers are digital personalities with large followings on their social media accounts.
Why They Work
Influencers can have loyal, engaged audiences with a reach of anywhere from 10,000 - 1 million people. Reach is the total number of people who see your content, but not necessarily the amount of people who engage with it. Influencers are generally divided into at least two categories:
Micro-influencers have between 10,000 to 50,000 followers.
Macro-influencers generally have 500,000 to 1 million or more followers.
Why They Don't Work
Although a huge follower count has traditionally been seen as an advantage, it has become more and more obvious that a huge follower count is meaningless if those followers aren't interested in your business offerings. If the followers are not engaged and interested in your brand, it is highly unlikely that they will be interested in making a purchase.
As well as the emerging problems with the large follower counts, influencer partnerships can come at a considerable cost to you and your brand. As influencers have become aware of the value of their audience reach, they have become more likely to charge in accordance with digital advertising costs. The relationship between them and your brand can thus feel more like an "endorsement deal".
Influencers are often only commissioned, or willing, to do one off posts or one off series of posts. Although this technically creates large reach, the average consumer needs to be exposed to your brand seven times before they take notice and/or make a purchase, meaning that these influencer relationships are often too short of time to drive real sales. Unless you develop a relationship with the influencer or have an ongoing contract your brand will be among many other brands the influencer has featured. In essence, your brand's post will only get exposed to their audience one time and then ultimately become buried in their feed by the next day's content.
Affiliate
What They Are
An affiliate is a person or institution who markets a brand's product for a commission or kickback of some sort.
Why They Work
In a social media context, they incentivize their audience to purchase your product by offering personalized discounts for using their name or code.
Why They Don't
Just like influencers, an affiliate doesn't necessarily have to have a passion for your brand/product, or loyalty to it. They are marketing you to their network because of a monetary incentive to do so and many audience's understand this. Thus, similar to influencers, the relationship can appear inauthentic and more like traditional advertising.
Fan/Customer Advocate
What They Are
Advocates are fans of your brand who engage, promote and support your brand/product because they love the brand and will often take action to promote it with or without being asked. They may or may not have a large or influential following. The incentive or reward for creating and sharing content for your brand is usually less product or payment based, although both of these are also utilised to an extent.
Why They Work
They are already loyal and very happy customers who you don't have to incentivise to speak positively of your brand. They can be incentivised by being rewarded in 'free' ways such as through engagement and recognition from the brand they follow. They do not usually expect compensation from the brand they are advocating for, thus they are cost efficient to collaborate with and utilize. As they are much cheaper (per ambassador) they are able to fulfill tasks that become useful only with scale - like providing your brand with lots of free User Generated Content (UGC).
Why They Don't
Customer fan/advocates don't necessarily have enough individual reach to benefit your brand, thus you need to engage with a large number of them to have a large enough reach to drive sales or brand awareness.
You can't necessarily control who or where they come from, thus they might lead lifestyles or uphold beliefs and opinions that contradict your brand morals/ethos. A proper brand ambassador program should be able to control for that.
Brand Ambassadors
It's important to note that the term "brand ambassador" is used to describe a variety of different titles within the social media marketing industry and its definition changes from person to person, brand to brand. All of the above groups (influencer, affiliate, customer fan/advocate) have been called brand ambassador at some point or another. For our purposes and the way it relates to the management software's discussed later on, we have defined "Brand Ambassador" as follows drawing on how they have been utilised by up-and-coming brands in 2019.
Definition of Brand Ambassador
Brand Ambassadors are formally-recognised representatives of your brand - often brand ambassadors work as part of a collaborative relationship between a brand and an individual that's been chosen to represent the brand to their audience for an ongoing period of time. They are sometimes experts in the field that relates to the brand/product - and almost always are asked to post about the brand/product consistently across all their social channels. They do so in exchange for recognition, free product and more rarely, payment. Micro-influencers, digital personalities with audiences of 10,000 to 50,000 followers, are commonly employed as brand ambassadors by brands.
Limitation of Brand Ambassadors
If you want a quick activation based campaign with a guaranteed large reach that doesn't require long term relationship management, then brand ambassadors may not be the best use of your resources.
If you are a new brand who doesn't have a strong brand awareness, credibility or loyal following yet it will be difficult to find people to represent your brand exclusively - or find individuals with real enthusiasm for the brand.
Why do you need a Brand Ambassador Management Tool?
Brands often start off using spreadsheets to manage their brand ambassadors, in combination with DMs & emails for communication, Dropbox or WeTransfer for content, Hashtags scraping tools and free affiliate tools. While this scale works effectively until around 20-30 ambassadors, it becomes unsustainable soon after. The time it takes to manage the brand ambassadors stops being worth the investment return, and it's mostly untrackeable.
Those brands that are finding their Brand Ambassador program difficult to scale, need software in order to assist them. This, however, is an emerging category and no comprehensive summaries have been made to date.
What does a Brand Ambassador Management Solution Platform/Software need to Do?
Regardless of which kind of digital personality and audience you want to target, your program needs a management software that allows you to maximize the benefits of these relationships. So you can spend less time on spreadsheets and more time binge watching GOT!
There are numerous softwares out there that specialize in marketing with one or more of these defined groups discussed above. We are only going to focus on software's that are best for managing relationships between brands and their long-term brand advocates - including micro/macro influencers, affiliates, and fan/customer advocates.
From our research into various Brand Ambassador programs that we have undertaken over the last few months at Duel.Intelligence, we've found that an effective piece of software needs to have certain essential features. This feature set includes:
Clear and easy communication between the brand and influencer/ambassador/advocate
Verification of social posts
Features for recruiting Brand Ambassadors
Analytics that allow you to track reach and sales
In-platform rewarding and reward tracking
UGC collection, storing and management
BrandChamp.io
BrandChamp's platform is optimal for working with affiliates. Their platform streamlines collecting, tracking and distributing commissions from their referral sale posts on multiple social platforms such as Facebook, Twitter, Youtube, Instagram and is even optimized to track every customer that uses the personalized link. Included in this ability is fraud protection, in order to ensure that commissions are only distributed to valid sales. Their platform automates verification and reward distribution, and is integrated with popular eCommerce softwares like Shopify, amazon seller central and wordpress woocommerce.
BrandChamp has all the essential components of a Brand Ambassador Software's feature set, except the ability to directly collect UGC from advocates without scraping through Instagram.
Clear and easy communication between the brand and influencer/ambassador/advocate √
Verification of social posts √
Features for recruiting Brand Ambassadors √
Analytics that allow you to track reach and sales √
In-platform rewarding and reward tracking √
UGC collection, storing and management X
Ambassify
URL: https://www.ambassify.com/
Ambassify is optimal for working with customer advocates within the Leisure, Tech, HR and Software Markets. It is worth noting that their technology is also designed with B2B in mind, not just for B2C, meaning that certain features like social post verification are absent from the feature set. Their platform works for activating and tracking customized campaigns on a variety of social media channels and platforms such as Instagram, Amazon, Facebook and offers 3 different price points and features based on the extent of your brand's size and needs. Ambassify's most common premium package measures up as follows:
Clear and easy communication between the brand and influencer/ambassador/advocate √
Verification of social posts X
Features for recruiting Brand Ambassadors √
Analytics that allow you to track reach and sales √
In-platform rewarding and reward tracking √
UGC collection, storing and management √
Grin
URL: https://www.grin.co/
Grin is optimal for working directly with Instagram influencers. They have an Instagram focused platform that functions as an excellent pipeline for managing outbound leads and outreach to influencers of your choice, and tracking product distribution/fulfillment to onboarded influencers. Grin allows you to publish landing pages to source inbound applications and automates outbound leads. Once an influencer posts about your product the software will code and categorize the content allowing you to filter it as a color coded UGC gallery for your brands marketing needs. Grin also integrates with Paypal and collects W9's from your influencers to further streamline the transactional process between you and your verified posts, functioning as a kind of Quickbooks history.
Clear and easy communication between the brand and influencer/ambassador/advocate √
Verification of social posts √Features for recruiting Brand Ambassadors √
Analytics that allow you to track reach and sales √
In-platform rewarding and reward tracking √
UGC collection, storing and management √
BrandBassador
URL: https://www.brandbassador.com/
BrandBassador is optimal for making brand ambassadors out of individuals who spend a lot of time on Instagram. Users of the BrandBassador platform apply to be a part of your brand community. Once approved by whatever criteria you have set, they are able to compete for the various prizes you offer for completing "mission" briefs that you as the brand post. These are customizable but largely optimized for Instagram photo content creating and sharing. The platform tracks the engagement of each ambassadors photo post pertaining to your brief and awards them based on their individual scale of reach.
Clear and easy communication between the brand and influencer/ambassador/advocate √
Verification of social posts √
Features for recruiting Brand Ambassadors √
Analytics that allow you to track reach and sales √
In-platform rewarding and reward tracking √
UGC collection, storing and management √
Duel.Tech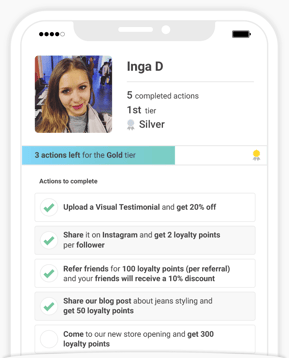 URL: https://duel.tech/
Duel is optimal for creating brand ambassadors out of passionate customer fans/advocates. As part of a wider Brand Advocacy tool, customers are recruited post-purchase into the fan community, where they have the ability to show their support to the brand through completing tasks within a gamified portal. Once they have levelled up to brand ambassador, the same portal acts as a management system for the brand ambassadors.
As a brand, you are able to drive, monitor and reward your advocates social posts, track them through affiliate codes, encourage the uploading of written/photo content or leaving reviews, as well as many other custom options. The platform also boasts additional plugins, like a AI-moderated Content Management System that integrates into eCommerce to provide SKU-specific UGC galleries or a Micro-Influencer plugin for creating landing pages for non-customers to sign up to.
Clear and easy communication between the brand and influencer/ambassador/advocate √
Verification of social posts √
Features for recruiting Brand Ambassadors √
Analytics that allow you to track reach and sales √
In-platform rewarding and reward tracking √
UGC collection, storing and management √
So what is the Best Platform for me?
In summary, if your brand is looking to move from a spreadsheet to a software management solution there are a variety of softwares and platforms available depending on your conception of what a brand ambassador is.
If your brand is looking to get large activations on campaigns and is more focused on reach, instead of curating long term relationships with digital personalities then influencers are who you should focus on working with. There are many such platforms reviewed in other places.
If you want to work with social influencers for their reach, but want to communicate and manage them directly in order to foster a long term relationship - Grin is a great option. It will assist you in the outbound activities required to recruit them and manage your influencers through a variety of social platforms.
Similarly, if you are looking to manage social influencers, but are optimising for affiliate sales instead of a traditional influencer relationship - then an affiliate focussed program as per BrandChamp is a good review.
If you are looking to drive Brand Advocacy with brand ambassadors within the Leisure, Tech, HR and Software Market - then Ambassify is the solution most optimised for your situation.
Lastly, for a management software that helps you make the most out of your marketing budget by capitalizing on your brand's already passionate advocates - Duel is the system optimised for that purpose.