Blog
June 11 2022
5 Successful Brand Ambassador Program Examples
Read more
5 Successful Brand Ambassador Program Examples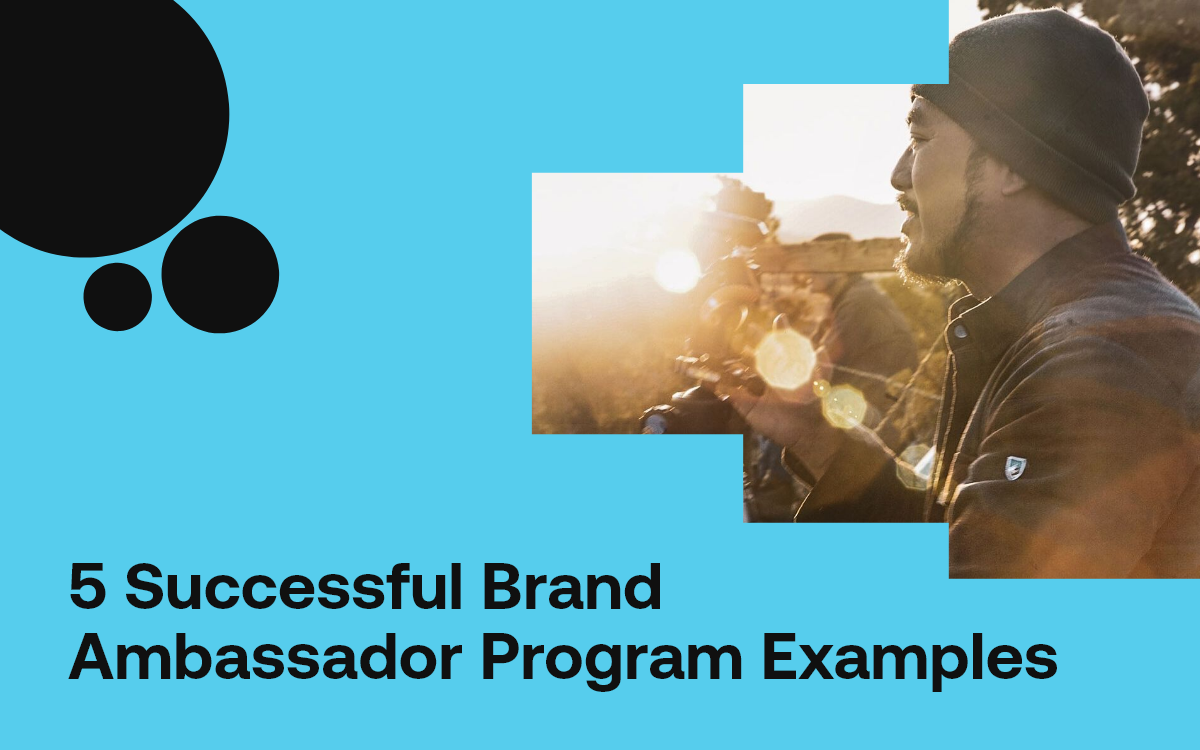 eCommerce continues to be highly competitive, with anywhere between 10 million and 25 million estimated stores worldwide. Although this competition can make online growth difficult, some brands are able to expand quickly and easily.
How do they do this? Many utilise the power of brand ambassador programs.
Brand ambassador programs are designed to create a closer connection with consumers to help drive sales and improve brand recognition. To find out more about brand ambassadors, read our guide, What Does a Brand Ambassador Do?.
To help you understand the effectiveness of ambassador programs and how they can help enhance the success of your brand, here are five brilliant brand ambassador program examples:
Lululemon: Running the Athleisure World?
Vancouver born, Lululemon always envisioned themselves as more than just a store.
Reported to have invented athleisure fashion, Lululemon put a strong, and compelling mission behind their chic yoga pants and running leggings. In response to this combination of mission and style, the brand's revenue soared, reporting a 2017 revenue of $2.65 billion.
Lululemon's rivals, Under Armour, Puma and Nike, all endorsed world famous sporting icons to be a part of their advertising strategy. Instead of this approach, Lululemon invested its time and money into local communities and created their famous brand ambassador program.
How their brand ambassador program works
The Lululemon ambassadors spread the Lululemon message by engaging continuously and beneficially with their local community. Each of these ambassadors are local to the area around the store, so they are able to tap into the community in an effective manner, and are seen as a trusted source of information by that community.
Moreover, the ambassadors host free yoga classes in-store, which integrates the stores into the fabric of the community - as well as hosting a number of other community activities (like running clubs). They also act as a bridge from the community to the store, with regular liaisons with Lululemon's store employees (who Lululemon call their 'educators').
They encourage their ambassadors to share successes and downfalls with the community. This not only builds relationships, but helps map out each community and provides a wealth of knowledge.
The ambassadors' locality gives Lululemon the ability to 'think globally yet act locally'. This perfects the customer experience, making every store feel trustworthy and integrated in the community. Today, their 415 stores are hubs of activity in communities around the world that engage customers and drive sales.
Rewarding their ambassadors
The ambassadors are also well rewarded for their efforts. Firstly, Lululemon has created an ambassador program that connects each brand ambassador with other, like minded ambassadors - a social aspect which cannot be undervalued.
Secondly, the community Lululemon creates is at the fingertips of all ambassadors to use to their own advantage. Lastly, Lululemon helps nurture their ambassadors to achieve their goals through providing tools, advice, and resources.
The Benefits: How Lululemon stays ahead of the pack
Lululemon is not just a shop. They integrate themselves into the local community, establish relationships and leverage these to drive sales. This brilliant technique relies heavily on their ambassadors. The close connection between community and store also means that customer views on Lululemons products funnel back into the heart of the company. This allows the continuous tailoring of products.
The Lululemon ambassador program ticks all the boxes; ambassadors love the brand, rewards are appropriate and the love is spread organically.
Using a community lead, brand ambassador programs drive awareness of Lululemon in a gentle yet forceful way to drive traffic into the store and online. This works so well because the local ambassadors are highly relatable to consumers.
Red Bull: Drinks Domination?
When someone says Red Bull, what do you envision? Often the answer is extreme sports and breathtaking stunts like a 23 mile skydive, or a 1500m vertical mountain bike trail. Red Bulls' brilliant marketing doesn't compete with the techniques of other brands like Coca-Cola, or Pepsi. Instead of focussing on the drinking of the actual drink, they focus on selling the experience that Red Bull can fuel - energy fuelled, exciting activities. Clearly, their unique content marketing is working - in 2020 they sold 7 billion cans.
Red Bull's target consumer is the ever hardy, tech savvy 18-34 year old. More and more, consumers block ads and pay no attention to public advertising. Red Bull's approach is to create content that these consumers actively seek out, and they do this by creating an ambassador program of creators able to make it. Their ambassador program, The Wings Team, is able to connect Red Bull with their target consumers through producing stacks of UGC.
How their brand ambassador program works
The Wings Team take pictures and record their extreme and active lifestyle. They embody the high energy aura of the brand and relay this to their community, acting as a network of marketing bodies. Red Bull hijacks the emotional connection that The Wings Team makes with their peers.
This connection has been shown to influence a purchase by a factor of 3-to-1. It increases awareness of the drink, how cool it is and drives sales. The content they make is posted as high quality advertising material by Red Bull on various channels they own. These channels act as the perfect points of contact; people want to watch these amazing, awesome videos and in turn associate this content with Red Bull. Even if you have no interest in the energy drink, you watch them. All of these videos are attributed to their ambassadors.
Rewarding their brand ambassadors
All this content, and in return for what? The Wings Team don't brag about it, but, they're really REALLY cool. Being part of the team gives you an air of mystery, oodles of cool creds and free Red Bull for yourself and to give to your mates (again adding to the 'coolest kid at the table' quality the brand builds on).
The Wings Teams, accordingly, is a highly sought after program to join, with people often queuing up to join. Not just because of the value in terms of exclusivity, but also the secondary rewards of the incredible publicity they receive from being part of the program.
The Benefits: Team Wings forever
Why would Red Bull spend so much time sourcing, vetting and posting all this content? The videos speak for themselves. They are extraordinary. The content they post is always of the highest quality and celebrates the extraordinary things their ambassadors have done.
Through releasing this content Red Bull hasn't had to chase their customer; people flock to the brand to watch these videos. A connection between the extraordinary videos and Red Bull is made leading to the customer thinking Red Bull is extraordinary. A picture is worth a thousand words, maybe, for Red Bull a video is worth thousands of pounds?
Harley Davidson: A Legacy Untold
The image associated with Harley Davidson is that of a leather-clad man, sitting astride a huge, black chopper. Harley Davidson has marketed this image to perfection and has created a sense of exclusivity and mythology behind the bikes.
Not only is Harley Davidson one of the most expensive bikes to buy, but there are certainly faster and more fuel efficient bikes on the market. So, why do so many people want to own one? The brand embodies the image that it has created - focussing on freedom, fun, and belonging. Their Harley Owners Group (HOG for short) epitomises these traits and creates a community.
How their brand ambassador program works
HOG is Harley Davidson's strange, yet effective, take on an ambassador program boasting 325,000 members. To become a member, one has to own a Harley Davidson bike. HOG is the cherry on top of the brand.
Harley Davidson owners and HOG members personify the name. HOG members act as tiny marketing points for the Harley Davidson brand resonating its heritage and luxury. The HOG platform drives advocacy organically, allowing owners to exchange Harley Davidson memories and advice on how to maintain their bike.
The success of HOG is down to exclusivity. If you don't own a Harley Davidson bike, or your partner/mother/father doesn't, then in the words of Mean Girls, "you can't sit with us".
Rewarding their ambassadors
From HOG rallies and events to restaurant and insurance discounts, Harley's ambassadors gain plenty of perks. Above all however, they are rewarded with a true sense of community, consisting of like-minded Harley-lovers.
The benefits: No bikey, no likey
The ambassador program is full of ambassadors who love Harley Davidson and want to communicate with others who share the same views.
Creating this sense of community allows the brand to create a stronger relationship with their customers, but also gives the ambassadors a sense of belonging within the group too. Harley Davidson enhance this effect by running HOG member exclusive events, publishing a quarterly magazine and a touring handbook.
The events they host are legendary, which create word-of-mouth and a desire of those who are not involved to join. This naturally encourages them to buy a Harley Davidson.
The advantage of this marketing technique is that it's all done organically. A win-win situation; the buyer gets the perks of joining the group, Harley Davidson generates organic word-of-mouth.
Xbox: Programming the perfect ambassador
A 21st century trend, online gaming is now a common pastime. Xbox entered this market in 2001 and aimed to compete in two major audiences. The younger end through gaming but also the older generation through web browsing and movie watching. Entering the ever morphing space of online gaming, Xbox was up against some serious competition. Playstation and Nintendo are Xbox's biggest competitors, something had to give them an edge. The answer for Xbox: an ambassador program.
How their brand ambassador program works
Their ambassador program aligns wholly with the Xbox mission; 'to empower every person and every organisation on the planet to achieve more'. Made up of Xbox owners and users who answer questions for other users, they help make the Xbox community the best on the planet.
If people are passionate about gaming, why wouldn't they want to spread their passion? Xbox are no fools; they have capitalised off what they know best - gaming. Their ambassador program has been well and truly gamified. It lures people into it and encourages ambassadors to complete ambassador actions. The more actions they complete (the better ambassador they are) the more tiers they unlock.
Rewarding their ambassadors
Unlocking a new tier means rewards. This could be merch, new hidden game levels or the entrance into an exclusive competition. Fueled by these rewards, Xbox achieves the mission of the program.
The benefits: X marks the spot
Cleverly, they have created a new portal within their ambassador program - the Xbox Insider Program which is an optional space that Xbox users can sign up to. Here, a brand and ambassador relationship can blossom.
Done through involvement in new product development, software upgrades and new game releases. This allows Xbox to tap into the invaluable opinions of its most loyal users to perfect their products before release.
Maker's Mark: Whisking Ambassadors off their feet
Smooth bourbons made in Kentucky, USA, Maker's Mark was not the only tipple that people enjoyed. After taking the brand international last year, their annual revenue soared to $4.62 billion. Its biggest competitors, Koval and Woodford, also offered a very similar product, but Maker's Mark differentiate themselves on the basis of their refined and old-age recipe.
Their distilling process is aided by its hands on team, with the brand often boasting that the turning of the barrels and wax sealing are still done by hand. Alongside these original qualities, Maker's Mark endorsed an ambassador program.
How their brand ambassador program works
Fans of the bourbon can really show their commitment to the brand through becoming a Maker Mark Ambassador. They pledge to 'share their preference' of Maker's with friends and family.
A simple yet effective goal of the program anchored by 92% of consumers trusting recommendations from their peers over advertising. Ambassadors are encouraged to represent Maker's Mark through all their walks of life. Branded golf balls and business cards are provided to their members for distribution, gifting ambassadors and encouraging them to spread the brand message.
Rewarding their ambassadors
Maker's Mark reward their ambassadors generously including the giving of merch, exclusive invites to events, and frequent tips and tricks around Bourbon. The genius behind this ambassador program comes with the named bourbon barrel.
The benefits: What do they

make

of it?
All new ambassadors have a barrel named after them, denoted by an engraved placard. They are then regularly contacted with updates on its maturation progress.
The crux: the time scale, seven years. Seven years of Maker's Mark ambassadorship. Seven years of seed spreading and nurturing. All creating a really loyal customer, or, a true ambassador. The icing on the cake, after seven years, rewarding them for their hard work the ambassador can taste their own whiskey. They can then buy a bottle of it and even hand dip the bottle to seal it.
So, should

you

start an ambassador program?
If executed correctly and ran successfully, as the above examples certainly have, an ambassador program can be a powerful strategy to grow your brand as it focuses on trusted channels that communicate messages much more efficiently.
There are a variety of people you could use as ambassadors. Some brands focus on those with certain abilities, like the Lululemon or Red Bull program, while others focus on those who have been a customer of their brand, like Harley Davidson or Maker's Mark.
Regardless of the program, product or mission, each program requires their ambassadors to embody the brand, spread the word and increase awareness. Therefore, each ambassador must be engaged and have a passion for the product, and each program selects accordingly.
Harley Davidson selects through their pre-existing customers, and Red Bull through an ability and affinity with extreme sports. This is also important because of the downsides of selecting inappropriate ambassadors. If you can execute a brand ambassador program effectively, however, it has the potential to reap massive benefits.
Duel is a Brand Advocacy Platform which turns customers into advocates – we automate that lightning-in-a-bottle moment of a friend endorsing a brand. Click here to learn more about our platform.