Blog
June 11 2022
5 Successful Brand Ambassador Program Examples
Read more
How to Become a Fashion Brand Ambassador (8 Great Programs)
Fashion companies, like many other companies around the world, are focusing on a new method of marketing. Instead of spending budget on traditional advertising, which is becoming less and less effective, pioneering brands are investing in their own customers to spread their brands' messages. Brand ambassadors, for example, help promote their favorite brands and build hype around new products. Moreover, they humanize your brand and extend your outreach. This blog post will focus on 8 fashion brand ambassador programs that are driving high ROIs, and links
What is a Fashion Brand Ambassador?
A brand ambassador is someone who is formally recognised by the brand as a representative, and helps spread the word of the brand. Fashion brand ambassadors are brand ambassadors of fashion brands and retailers. These brand ambassadors are encouraged to create content for the brands and help spread the message.
What Makes a Good Fashion Brand Ambassador?
Fashion brand ambassadors need to be passionate about fashion and their social media needs to represent that passion. Therefore, their social media accounts need to maintain a 'fashion feel.' A large following is no longer necessary to become a brand ambassador, instead what is necessary is a very high engagement rate.
The Programs:
BANGS Shoes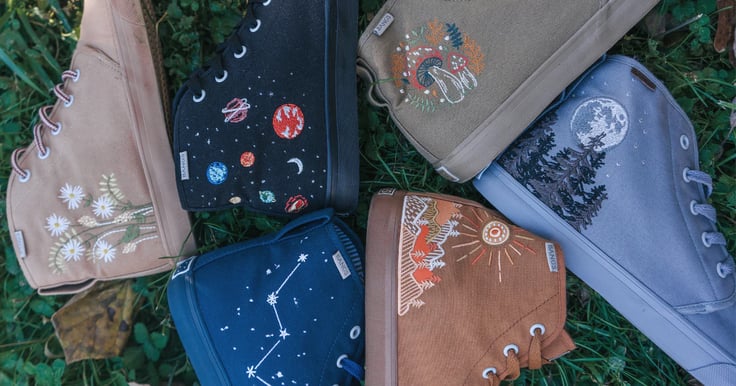 Background
Hannah Davis is the founder of BANGS shoes. Before founding BANGS, Hannah worked at a University teaching English to Chinese students. During this time, she was inspired to design shoes based on the simple work boots worn by Chinese workers and farmers. When she finally began her company, she wanted to include a strong Chinese influence. She explains, "The name BANGS comes from the Chinese character for 'help', but over time, BANGS Shoes has become so much more than footwear for a cause."
Who are the Brand Ambassadors?
BANGS Shoes brand ambassadors include @sabinkabednar @elliotjkennedy @nikkipaige1396 and @allieruhlander. Their number of followers ranges from around 800 to almost 6,000. They focus on fashion and adventure.
The Mission
While their following is different, they all represent BANGS Shoes slogan, "Your adventure helps others find theirs." This is what is expected of BANGS Shoes ambassadors.
Tasks and Benefits
"Brand ambassadors are asked to wear BANGS shoes as well as recruit friends and family to join the #liveBANGS community on Instagram. The ambassador benefits include discounts, meetups, and the opportunity to win fun prizes. To earn these amazing benefits, ambassadors will be posting on Instagram for the "monthly blitz days." If you want to read more about their brand ambassador program or would like to apply to become a brand ambassador, click here.
Just Strong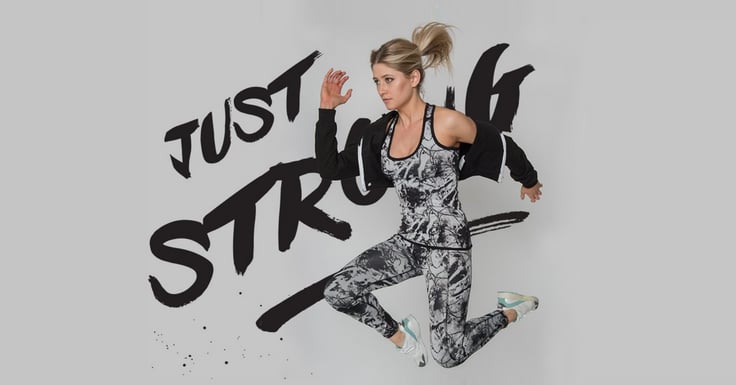 Background
Just Strong is an athletic brand whose goal is to empower women. They sell everything from leggings to t-shirts and crop tops to sweats. Their symbol is the squat. Just Strong explains, "The squat is the perfect analogy for life - it's about standing back up after something heavy gets you down and what better way to present this analogy by using it in our branding." Just Strong wants to empower and motivate women to stay strong and continue to work hard in and outside of the gym. "Just like the squat, our clothing is a symbol of standing back up, fighting against any resistance life throws at you and becoming stronger." Overall, they want women to embrace their strength.
Who are the Brand Ambassadors?
Some of their brand ambassadors include @hgracy95 and @maddienuyts. Like BANGS Shoes, the ambassadors have a wide range of followers. Some have around 2,000 followers, and some have around 24K. Their brand ambassadors have Instagram pages that are focused around fitness.
The Mission
Just Strong wants to empower other women to be strong and represent their brand. The first quality they look for in choosing brand ambassadors is passion. They mention they want women to empower each other through support, friendship, sharing, growing, building a community, and kicking ass!
Tasks and Benefits
The program allows ambassadors to connect with a community of 13,000 women who support each other and who may even become friends. Some of the tasks include posting a high quality piece of content every month on Instagram, supporting other ambassadors by communicating with each other and sharing their feedback. Looking to apply? Apply here!
Henri Girl

Background
Cassandra Gordon is the owner of HenriGirl, a popular clothing boutique. In 2007, she opened her first store in Tallahassee, Florida. The name Henri Girl was inspired by a nickname her grandfather called her, 'Henry.' He taught her to believe in herself, always be kind, and work hard. This is what paved the way to creating Henri Girl.
Who are the Brand Ambassadors?
Henri Girl's brand ambassadors include @kendallmvickery with around 6K followers, @brookemason with 16.1K followers, and @meganmackk with around 3,500 followers. Ambassadors' following typically ranges from high 2,000s to around 20K, but do not let this stop you from applying! There is no set requirement for the amount of followers a brand ambassador must have. Henri Girl's brand ambassadors' Instagrams are based around fashion and beauty.
The Mission
Henri Girl's ambassador program's mission is, "To empower young women to believe and feel confident about themselves by helping cultivate their own individual, personal style."
Tasks and Benefits
Some of the tasks include providing creative and unique content as well as holding campus events. Some of the benefits include the possibility of being chosen as a featured Henri Girl on a page of their website, and being gifted an item every month.
Serengetee

Background
Jeff Steitz and Ryan Westberg started Serengetee in 2012 in their dorm room. While they were studying abroad, they collected fabric from the various countries they visited. During their travels, Jeff and Ryan saw struggling artists, and decided to help them. Serengetee now supports artisans from 25 countries and give 10% of their profits to grassroots causes. The artisans make the patterns used for the pockets of shirts, bracelets, scrunchies, etc.
Who are the Brand Ambassadors?
Some of Serengetee's brand ambassadors include @jordantheexplorer and @keanakachmar. Once again, there is a large range in the amount of followers for each ambassador. Serengetee's brand ambassadors have Instagrams that are based around travel and adventure.
The Mission
The mission of Serengetee is to support artists around the world. They want customers and ambassadors to know that when they wear Serengetee, they are wearing a piece of the world.
Tasks and Benefits
Some of the responsibilities include: spreading the movement, competing in weekly challenges, being active on social media, and wanting to make a difference. Serengetee has a unique brand ambassador program. A great benefit is the chance to win a trip to Guatemala. They also give you the chance to win free gear and prizes.
Sand Cloud

Background
Sand Cloud was founded in 2014 by 3 friends (Brandon Leibel, Steven Ford, and Bruno Aschidamini) in San Diego, California. They wanted to educate people about the severity of ocean pollution. They are huge supporters of marine life preservation. Sand Cloud make various products including beach blankets, clothing, and accessories. From the sales of those items, they donate 10% of their earnings back to nonprofits that support their cause.
Who are the brand ambassadors?
Sand Cloud has a lot of ambassadors in their program. Some of their ambassadors include @amanda_r_s who has over 8K followers and @taganvaz who has 13K followers. While these two ambassadors have a lot of followers, there are plenty of other ambassadors with less than 1,000 followers as well. Sand Cloud's ambassadors have Instagrams that focus on fashion. While these accounts are influencers, micro or nano-influencers are becoming more common in helping market a brand.
The Mission
Their mission is to save marine life and they want their ambassadors to help.
Tasks and Benefits
Sand Cloud has an ambassador program and has three main parts to their ambassador promise. First, help spread their mission to friends using social media. Second, get the chance to be featured on the official instagram. Third, discounts are offered on all products. To apply, click here.
Pura Vida Bracelets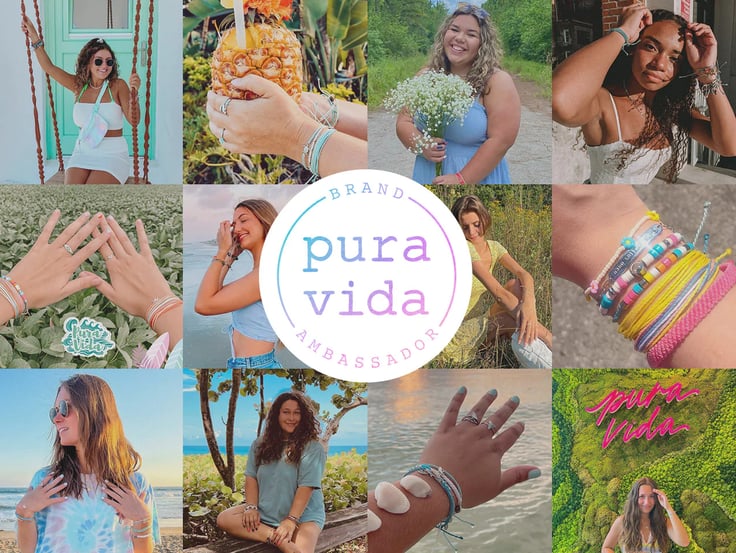 Background
Two college graduate students started Pura Vida after they went on a trip to Costa Rica. While they were in Costa Rica, they met two artisans that were dealing with poverty. They decided to create a partnership with the two artists from Costa Rica and create Pura Vida. Pura Vida sells jewelry, specifically bracelets, and accessories.
Now 350+ artists have had a steady income thanks to Pura Vida. Not only do they help artists, they have partnered with over 174 different charities around the world. They explain, "At Pura Vida, we dream to do more, which is why we're always on the lookout for new charities that can benefit from this collection." Charities they donate to include cancer awareness, animal awareness, conditions, education & children, enviro-causes, memorial causes, and service/military.
Who are the Brand Ambassadors?
There are a lot of brand ambassadors for Pura Vida because so many people love to support the amazing charities. Some of their ambassadors include @pvrep_charli with around 2,000 followers, @gratefullylauren with 105K followers, and @jasminmanzano with around 2,000 followers. These ambassadors tend to focus on fashion and adventure.
The Mission
Pura Vida wants their bracelets to serve as a reminder to slow down and live in the moment. They also want to help various charities and ambassadors help this effort.
Tasks and Benefits
Like many other ambassador programs, Pura Vida wants outgoing individuals that are active in their communities, involved in extracurriculars, and motivated to make the world a better place. Pura Vida wants their ambassadors to be kind and respectful, and, once hired, to use their code to help generate sales. Ambassadors also must be active on Facebook and Instagram and post photos with Pura Vida products. Benefits include commission on sales that use ambassador's discount code, free bracelets, and sneak peeks at new collections. Want to join this program? Apply here!
Daniel Wellington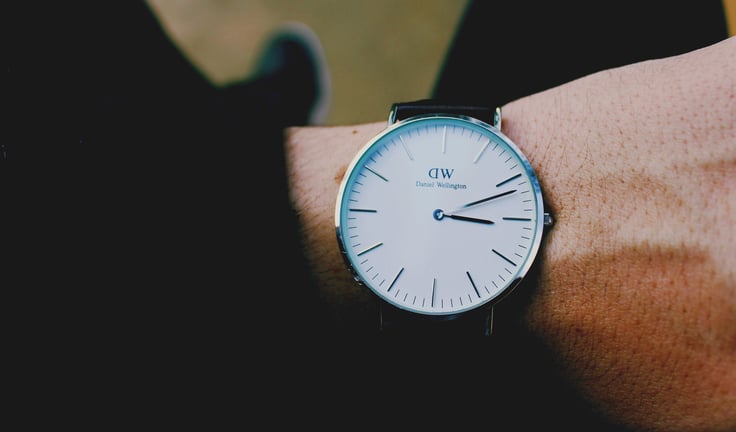 Background
Filip Tysander founded Daniel Wellington. He based the watch company off of a British man he once met who loved wearing vintage watches with old NATO straps. The British man's name was Daniel Wellington.
Who are the Brand Ambassadors?
Some of their brand ambassadors include @theresejsmith with around 3K followers, @juliatillman with around 5K followers, and @cameronwesleyw with around 1,500 followers. While most ambassadors have over 1,000 followers, there are no specific requirements for the number of followers you must have! The ambassadors typically post pictures relating to fashion and tend to post pictures about their everyday life.
The Mission
Daniel Wellington's mission is to provide watches with a timeless style and interchangeable straps.
Tasks and Benefits
Tysander described his brand ambassadors as enthusiastic people who are up to date with trends and love a challenge. It is expected that they thoroughly understand social media platforms, like Instagram, and continuously share their love of the brand and help grow the community. Ambassadors earn points by completing tasks. These points can later be cashed out for gift cards, concert tickets, events, etc. Ambassadors also get the chance to be featured on the official instagram. To apply, click here.
Wicked Custom Apparel
Background
Wicked Custom Apparel is a family run business that started the summer of 2014. They make affordable, custom made products that are available to people all over the world. The majority of these items are made by hand.
Who are the Brand Ambassadors?
While Wicked Custom Apparel states that they require ambassadors to have an active account with over 5K followers and an average of 250 likes, most of their ambassadors have less than the specified amount. This shows they will not only depend on the number of followers you have. @frauleinwhitney @annikfitness and @taylahhuntah are just some of Wicked Custom Apparel's many ambassadors. Most of the ambassadors' Instagrams focus on fashion and their everyday lives.
The Mission
Their mission is not directly stated, but it is clear they want their ambassadors to show their love for the brand through their Instagrams!
Tasks and Benefits
One task ambassadors complete is sharing ideas on how to boost exposure. Ambassadors are also required to post pictures of items on Instagram. Based on the hashtags ambassadors have used previously, it seems that in the caption, you should include #wickedcustomapparel. Benefits include a code given to you for your friends to use. It offers 10% off. Once the code is used 10 times, you get 2 free items! APPLY!
Conclusion
Brand ambassadors help promote brands and get the hype up. Fashion companies, like many other companies, are taking on a new form of marketing by using brand ambassadors. Ambassadors are a great help in humanizing your brand and extending your outreach. The eight brands mentioned in this blog have great ambassador programs, and those looking to be a brand ambassador should look into applying to represent these companies.
Duel is Customer Advocacy Platform which turns customers into advocates – we automate that lightning-in-a-bottle moment of a friend endorsing a brand. You should probably get a demo booked… (click me!)
If you want to look more at the theoretical background – take an intellectual swim by diving into a Customer Advocacy Marketing Workshop run by our consultancy arm (click me!).
Introvert? Voyeur? Watch Paul give a speech here or sign up for our newsletters to get monthly Customer Advocacy Marketing emails on tips, statistics and the science behind it.