Blog
June 11 2022
5 Successful Brand Ambassador Program Examples
Read more
5 Successful Loyalty Program Examples in the Beauty Industry
The beauty industry has skyrocketed in popularity in recent years, making it one of the most competitive markets out there. With an annual growth rate of 4.75%, total revenue of the beauty industry is expected to top $716 billion by 2025. Nowadays, customers have the ability to find a brand that is best suited to fit their personal needs.
---
Social media and the rise of the "beauty influencer" has caused the market to be flooded with different brands fighting to win your loyalty. Acquiring two new customers is not as beneficial as retaining one existing customer.
According to Forbes, it can cost five times more to attract a new customer, than it does to maintain an existing one. Brands are often left to produce different variations of the same product. It is up to the brand to think of creative ways to stand out from the competition. Loyalty programs have proven themselves to be a fundamental way to do this.
It is not enough to just have a good product and put it on the market. When there is a good product, brands are quick to jump on the bandwagon and duplicate it. Because beauty products are regular, high-frequency purchases, companies use loyalty to keep customer retention to respond to the unique challenges this industry faces. A one-time purchase is not as valuable as a long-term customer. In order to build trust with customers and earn their loyalty, companies have begun instilling beauty rewards programs to generate that long-term engagement. The stronger the relationship the customer has with the brand, the more likely they are to support it. When customers are immersed in a universe created and tailored to their personal experience, they are more likely to repurchase items and experiment with high-end products.
Brands have adopted many features within their programs to increase customer retention.
Here are a few features to help your company stand out from the competition.
Birthday gifts

Early Access to products, new launches

Membership tiers

Double/triple points

Smartphone app

Mobile wallet

Exclusive media content

Coupons, $ off

Exclusive access to gifts

Free shipping

Blog access

Community elements

Exclusive access to giveaways

Personalized product edits

Product masterclasses



The best beauty brand loyalty programs
The following beauty brands have acquired a cult following through building a strong community, with loyalty programs that have provided value for customers around the world.

Charlotte Tilbury is a high-end makeup brand based in the UK. It is one of the world's fastest-growing beauty brands and its revenue is ranked 1st among its top 10 competitors. Some of the brand's most loyal customers are professional makeup artists, and people interested in luxurious top-quality products. In order to optimize purchase frequency and reward customers, the brand launched Charlotte's Loyalty Program.
Right from the start, signing up for this program gives you 10% off your first order when you sign up using your email address. From there, you gain access to members' only experiences within the beauty universe such as masterclasses, product tips, makeup tricks, and the chance to become one of Charlotte's Stars and unlock the "Magic Vault" containing exclusive gifts. The membership program also allows customers to enjoy personalized recommendations, live chats, gifts with purchase, and bring back beloved best sellers from the past.
After sharing your personal data with the program, it is able to give you an experience that is tailored to your unique needs and preferences. Personalized marketing is one of the tools to accelerate customer retention rates. Personalization is a great strategy to let your users know that you care for them, and their choices and preferences matter the most to you. 80% of consumers are more likely to buy from a company that provides a tailored experience. These personalizations make customers feel like they are valued within the company. They want to support a brand that supports them back.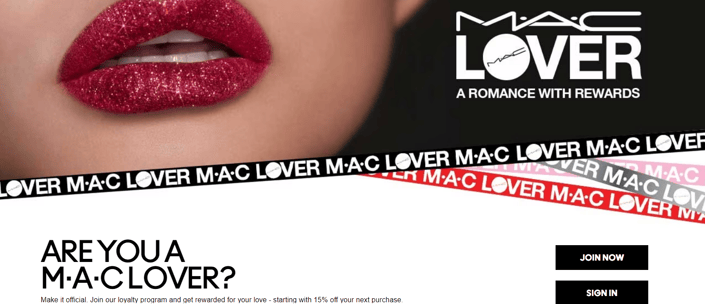 I have been a huge fan of Mac since I first started experimenting with makeup. As I grew older, I realized its hype was well worth it, as their products are beyond professional quality. Their loyalty program is divided into three different tiers. The more money you spend, the higher in the tiers your membership will be. The loyalty program rewards you right off the bat with 15% off your first online purchase upon signup, making you a "Lover" tier member. From there, one has to spend $150 or more within a calendar year on products to reach their second tier of the program, called "Devoted". Tier two will gain you access to member's only products, seasonal offers, birthday gifts, and early access to new collections and collaborations. Members who spend more than $500 in a calendar year reach the ultimate loyalty status, "Obsessed". This status will reward you with all of the perks of the lower tiers, plus invites to exclusive events around the globe. Also, this tier awards you complimentary 2-day shipping.
MAC uses a different loyalty model than Charlotte Tilbury as it uses tiered levels. A tiered program shows customers that they are not only appreciated but important to the brand. The initiative of moving up in ranking makes customers feel better about spending and keeps them spending to maintain the status the brand has granted them. Industry research has revealed that "50 percent of customers agree to altering their purchase behavior or increasing their spending to attain a higher level in a tier-based loyalty program". When each dollar spent gets you closer and closer to the next tier, it's encouraging people to shop in the store again.
#3 Sol De Janiero 'Sol Rewards"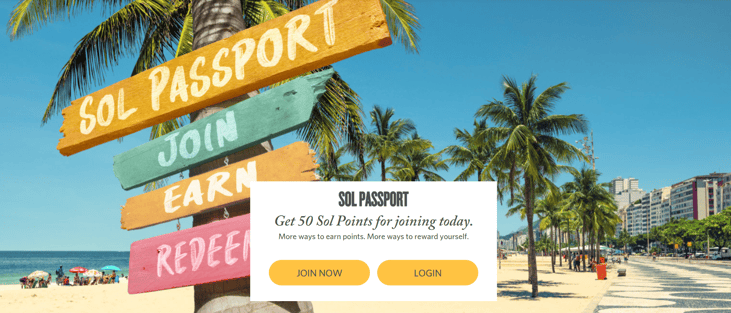 Sol De Janiero has earned a reputation as the go-to brand for aromatic shower products in recent years. Their signature Brazilian Bum Bum Cream has users hooked for its skin-nourishing properties, aesthetic, and most importantly, the addictive fragrance. According to the brand, someone buys a tub of the cream every 28 seconds. In fact, it is the number one best-selling lotion on Sephora.com, with over 5,000 5-star reviews and over 340,000 loves on the site. SDJ has been hugely successful in expanding its line into more skincare and haircare products. With this large demand for their products, SDJ has acquired a loyal customer base who are loyal and constantly replenishing their supply.
SDJ has been using a tiered loyalty program called "Sol Rewards" which has been tag-teamed with the slogan "like feeling good in your skin, rewards also feel so good". The first tier, "Sol One-way", is the first tier in which a $1-$99 annual spend is required. In this tier, customers receive one point per dollar spent, and exclusive access to sales, giveaways, and new products. The next tier, "Sol Round-trip", is a required $100-249 annual spend. Once you hit this tier, you receive a 250 point bonus, and a 1.5x point multiplier per dollar spent. In addition to the perks from the first tier, you receive free ground shipping in the US on any order. The highest tier, "Sol Upgrade", is a member who spends more than $250 in a year. This tier rewards you with 500 bonus points, a 2x point multiplier per dollar spent, and all of the perks from the lower tiers. For example, 750 points will give you $75 off a purchase of $90 or more. Also, you are given additional discounts on products throughout the year.
The loyalty program is not all transactional. A member can earn points through connecting with SDJ in other ways. For example, a customer can earn points through connecting with them on social media platforms or writing a review of their products. In doing this, customers are allowing SDJ into different sectors of their life, making the connection between brand and customer so much closer.
Examples include:


The Balm Cosmetics is a bestseller line of makeup, skin care, hair care, and nail polish. With a "beauty in minutes" philosophy, many people began raving over their products all over social media. The brand has been featured by Allure, The Mancunion, and many other notable media outlets. In addition, they have a following of 2.4 million beauty lovers on Instagram. With this following, the Balm has created a community based upon the values of confidence, friendship, and living your best life.
The Balm also features a tiered loyalty program similar to MAC and SDJ. The program runs by a $1 = 1 point ratio, and 10 points = $1 off. From there, there are four different tiers you can fall on. You can increase tiers by earning more points. The tiers run from Starter, Newbie, Babe, and Star.
The result is a world-class loyalty program customers are constantly engaging with and purchasing from to increase their tier.
Read what each tier entails below: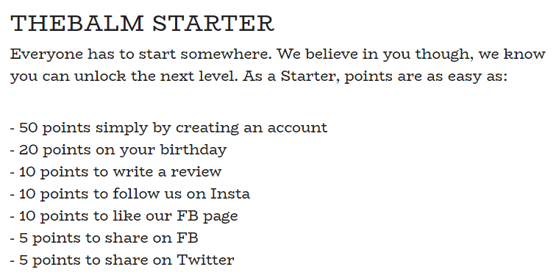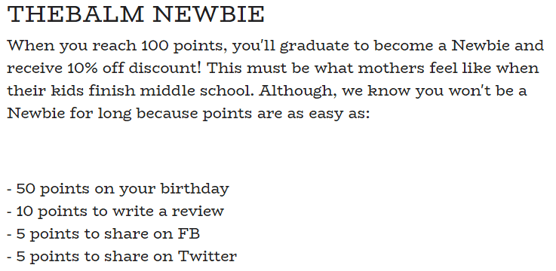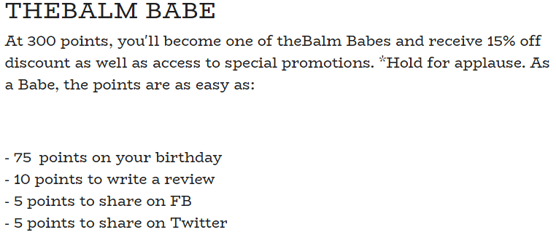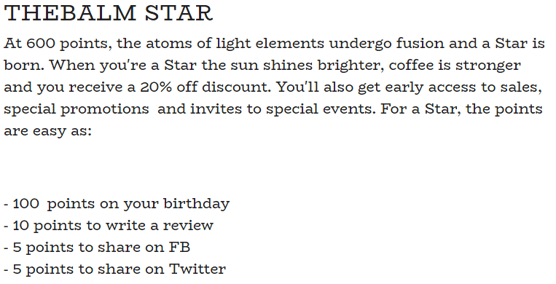 Sally's has two loyalty memberships: preferred and elite. In order to have elite status, you must spend $200 minimum within the calendar year. With a preferred membership, every $1 you spend in-store or online, you'll receive 10 points. For every 500 points that you earn, you'll receive a $5 rewards certificate. In comparison, an elite membership equates to 12.5 points per $1 and $5 per 400 points earned. In addition, elite members receive free shipping on all orders and a birthday gift of $5 every year. They will also give you double points for every purchase you make during your entire birthday month!
Sally Beauty does not want to be left behind in this new world of customer retention. In discussing all of the latest innovations to their loyalty program, Chris Kobus, group vice president, marketing and digital for Sally Beauty, says, "The passion for our brand and commitment to our customers must shine in all we do – Sally Beauty Rewards is just the beginning. We want everyone who interacts with us to see and feel the energy and excitement around Sally Beauty. I believe this is a game-changer for us and those eager about the opportunity to earn cash toward free products." Read the full story here.
See the chart simplifying this information below.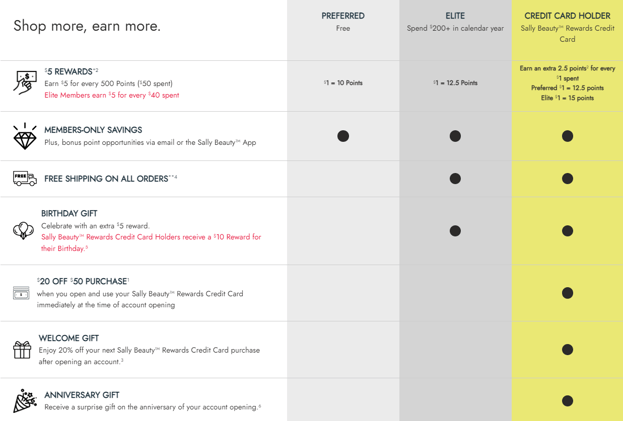 In this post-Covid-19 era where people have access to all of the products in the market at the click of a button, customer loyalty is deemed as almost non-existent. Nowadays, it is not enough for a brand to have a flash sale and lure someone to make a one-time purchase. To create a loyal and sustainable customer base, there are a lot of things brands should be doing moving forward. Loyalty programs are a great way to boost that customer relationship and ensure they will be coming back for more. It is necessary to make a product that a customer can feel is their own.
No person has a cosmetic bag filled with items from the same brand. Customer loyalty programs, personalization, and deepening that relationship will help to fill up more space from your brand in that bag.
The question now is: How is YOUR brand going to stand out in the market?