Blog
June 11 2022
5 Successful Brand Ambassador Program Examples
Read more
Ambassador Storefronts? The future of community-driven retail
Whilst the pandemic has caused hundreds of household names to shut up shop, a select few companies have managed to thrive in the last 18 months by evolving innovative ways of engaging with their customer base. Their not-so-secret weapon? Leveraging thousands of brand ambassadors using Ambassador Storefronts - an innovative way for brands to work with their fans to sell products on their behalf to their friends, family, and followers.
What are Brand Ambassadors?
These aren't the same influencers selling untested medical products, pyramid schemes or brands they've never heard of in exchange for cash. These are an organisation's customers: the most socially active tier of fans that love the brand, their values, and their community. Although many brands have embraced the influencer marketing model, there are more mountains to be gained from the latter in the way of authentic, lasting growth.
Ambassadors are those who not only love what you're selling but want to engage with you beyond the checkout. Tapping into these superfans allows you to grow not only in capital, but in something more valuable: a robust brand image, and a massive, active community.
When it comes to Ambassadors, it's less a matter of finding them and more a matter of uncovering them. If you have customers, you have a source of support you can unearth and harness for exponential, inexpensive growth.
Brand Ambassadorship is not a new concept. In fact, it's the most ancient form of marketing there is. Before mass advertising, before TV ads and billboards in the 50s, before those with cash could have a monopoly on the printed press, the only way for a trader to grow was if people told other people they knew about their offering. In 2021, more and more people are making purchase decisions based on the recommendation of their online peers. The pandemic has reinforced this change in consumer behaviour and has brought the marketing world full circle.
COVID and lockdown meant every brand in the world had to move online, competing with those who had been trading digitally already. This made for an exponentially more crowded space for brands to speak to their audience and sell their products, with countless more vying for consumer attention. The result? Acquisition costs through performance marketing skyrocketed. This has led many to seek alternative, longer-term solutions to grow their brands sustainably, and retail is increasingly becoming community-driven. Cultivating Ambassadors became more than a nice add-on, but an integral part of business strategy. And some companies in particular have embraced innovative approaches to engage and harness their customer base. Enter the Ambassador Storefront.
What are Ambassador Storefronts?
Brands now find themselves in the age of community-driven retail. The most savvy amongst them are able to tap into their greatest asset in a meaningful way - their own advocates. Ambassador Storefronts enable those advocates to create and display a shop-able portfolio. Using Brand Advocacy Platforms like Duel, they can easily set up this eCommerce storefront. There they can publish the content they identify with in a meaningful way to their audience. Those same advocates in turn benefit from not only the satisfaction and status of being a Brand Ambassador but also the financial incentive of commissions.
The trendsetter beauty brand Charlotte Tilbury, for example, are relaunching their 'magic makeup stars' program of thousands. This new model means they're able to turn these makeup artists into a network of highly respected and passionate expert advocates - educating the market, creating content and driving even greater sales.
Purpose-led brands like Monica Vinader also grow through communities of passionate ambassadors. Others have sought guidance in accelerating advocacy from industry professionals and experts to local heroes and customers, all by allowing each one to create their own brand outlet and supplement any existing footprint a brand might have. These digital storefronts allow advocates across the globe to sell a brand's products, curate their favourite picks and promote it to their own focused, smaller audiences.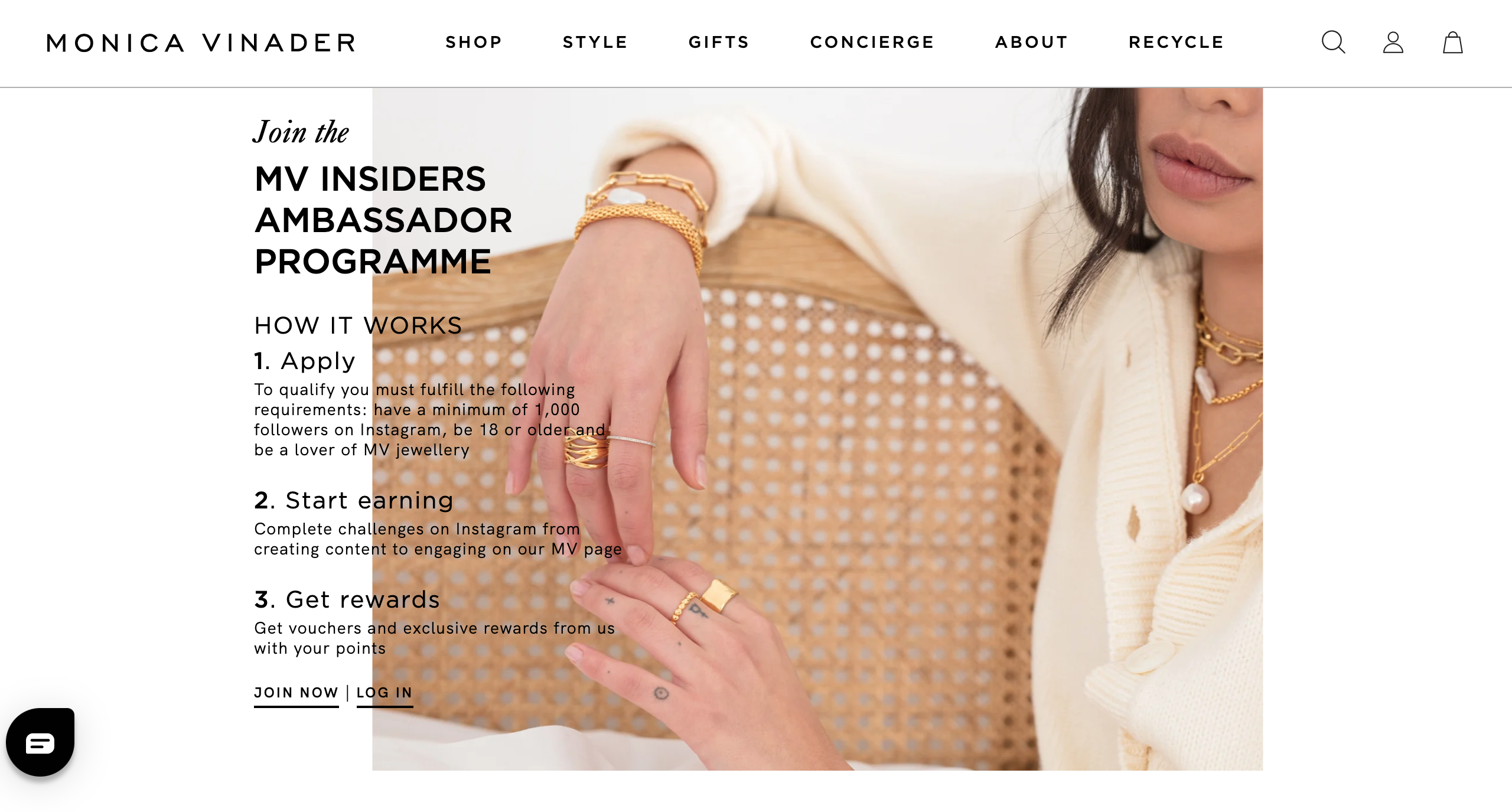 Why Community-driven retail is so powerful
In our modern interconnected world, we are becoming increasingly conscious of the environment, what we buy, what we wear and what we engage with. It's a reflection of our values. Subsequently, people want to be seen wearing products they think are an extension of what they represent. This connection is easier to make if you see others you already trust aligning with and advocating for said product. Monica Vinader knows this, and taps into this excellently. Additionally, the gamification element of Charlotte Tilbury's program attracts fans, and the idea of levelling up through tiers harnesses behavioural psychology and is appealing to many.
It's exciting to think about the long term impact concepts like Ambassador Storefronts will have on customer advocacy programs. It takes customer to customer interaction to a whole new level, enabling those who love a brand to showcase exactly what they do with their products, and show their favourite items and styles. It moves beyond the more impersonal affiliate link. Most notably, it deepens the relationship between brand and customer, as the customer journey doesn't end at a sale.
Ambassador Storefronts are another way the tech has empowered consumers, and it's great to see brands giving more autonomy to customers in the form of UGC, giving space for the product's quality to do the talking, in real life and shown in action.
Their impact goes beyond sales and serves to reinforce and represent the values of the brand, which is why the brand ambassador system works well in purpose-led brands, who stand for something that matters.
Top Takeaways
There are many ways to increase a brand's capital, market share or profit, but there's only one way to sustainably build a brand's name: Empowering, enabling and including its people.


A neglected customer base has untapped potential. If your customer journey ends at purchase, you're only scratching the surface of your D2C relationship. Engage beyond the sale.


Communities can seem hard to grow, but nowadays there's ways that the power of tech can enable your brand communities to grow at scale.


Join the other 3,078 brand builders who gain actionable insights via our newsletter by clicking here.