Blog
June 11 2022
5 Successful Brand Ambassador Program Examples
Read more
Best VIP Membership & Rewards Platforms for Shopify
The best brands of the last decade have grown through a strong passionate following, which has led to organic word-of-mouth and high retention. This combination allows brands to organically grow their following quickly and cost effectively.
These brands have often invested in strategies that increase the emotional connection between the brand and their customers. Whether it is an exclusive metal credit card, like in the case of American Express, or the association of the brand with important causes, like Patagonia, brands have sought to deepen that relationship.
A primary way to increase this emotional connection is through creating VIP programs, which allow customers to feel more recognised within the brand. This in turn builds a sense of personal identity for the customer that is more related to the brand, and makes them more likely to share their love of the brand, and continue to support them with their wallet.
Therefore, VIP experiences & VIP programs are an incredibly effective method to achieve long-term organic growth built on network effects without relying on paid advertising. There are a million different ways to create VIP programs, but they all share the central foundation of an experience that makes customers feel as if they are part of an exclusive group. Most programs use a series of tiers to give customers a sense of progression as they earn the right to join a more exclusive group and receive higher value perks.
Creating the right VIP membership experience and scaling it to the right people necessitates the right tools and platforms but the choices available on the market are varied and can be overwhelming.
That's why we've built this guide. Our team has found the best plugins, platforms and tools that can be used to create VIP membership communities for Shopify stores.
We've broken down this list into a few categories, traditional VIP rewards platforms - which reward customers with straightforward gifts in exchange for standard actions like purchases or referrals, pay-to-play membership programs, which allow customers to pay for the right to be a VIP and enjoy the perks and high-engagement loyalty, which create deeper status connections with customers and provide more varied rewards like experiential prizes or input on products.
Traditional VIP Rewards Programs
Traditional VIP Rewards programs focus on giving VIPs transactional benefits in exchange for straightforward behaviour like purchasing more products or referring friends. This is essentially a loyalty platform, but tiers & exclusive perks can occasionally elevate these programs to an emotional level. These platforms are excellent for customer bases that respond to primarily monetary rewards like discounts or free shipping. In this category is also the pay-to-play VIP program, which entails customers paying for their membership instead of completing certain activities. Stores miss out on the opportunity to reap the benefits of customer activities like sharing and referrals, but they can be more confident in a customer's loyalty, since customers have paid for access.
Smile.io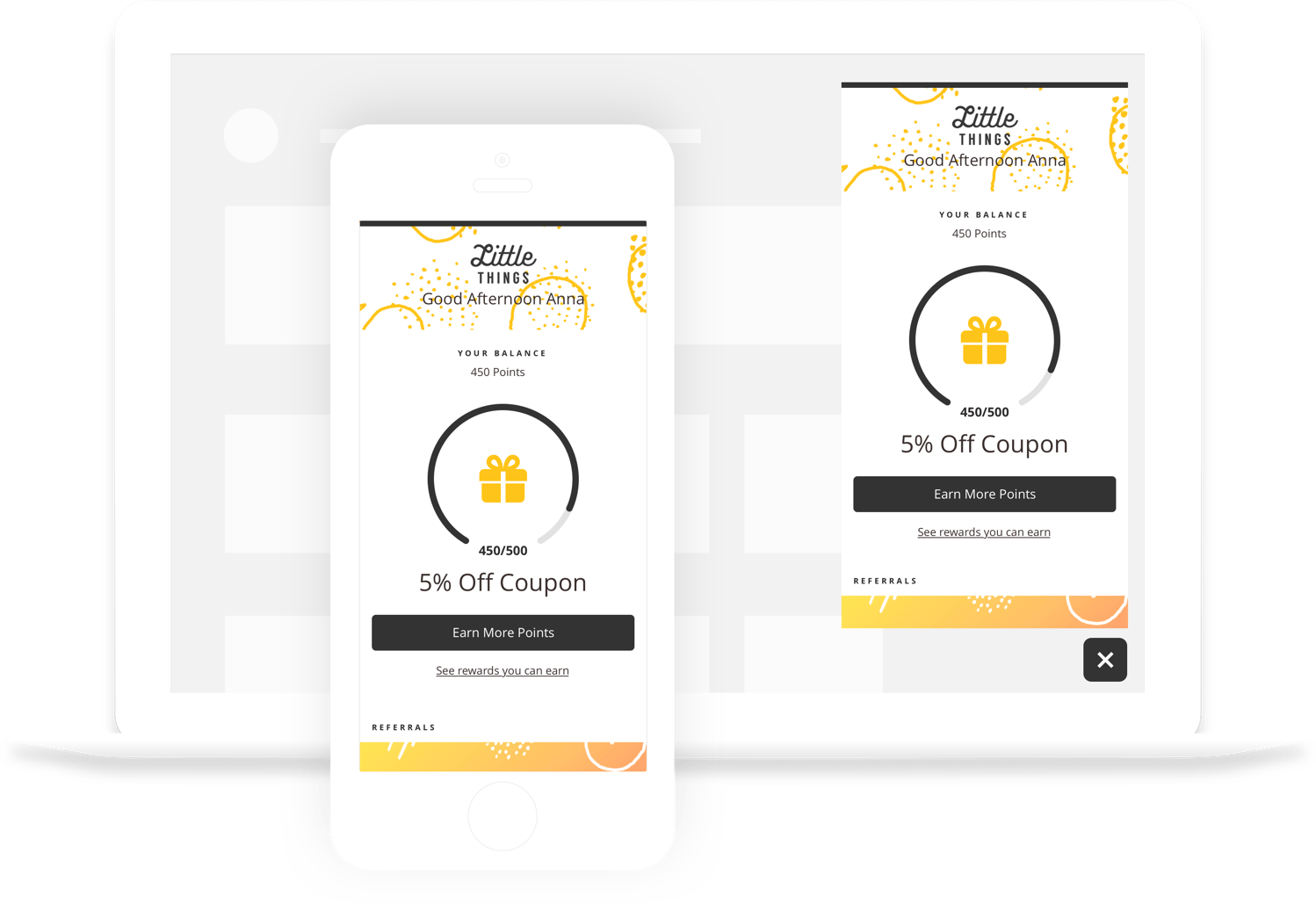 Smile.IO is a leader in creating efficient, straightforward rewards programs for Shopify stores. They are an excellent choice for brands that want simple integration, a limited but clear rewards system and the opportunity to structure rewards within their program.
VIP rewards programs are not the same as simple rewards programs however. A VIP program requires tiers and a sense of separation between different rewards groups, and also demands a system that is capable of building more personalised relationships between customers and the brand.
It's worth noting that while Smile.IO has several pricing tiers, the VIP program features are only available with the Pro plan, coming in at USD $599/month. This plan is required in order to implement tiers as well as indirect features that are crucial to the VIP experience like customised emails and custom branding on the website.
Overall, Smile.IO is an excellent VIP membership rewards platform for stores that opt for the Pro plan and are happy to develop and manage the programs themselves.
Use Case
Smile.IO is perfect for stores that are looking for a DIY solution that rewards a limited number of behaviours and appeals to customers motivated by transactional benefits like discounts.
Loyalty Lion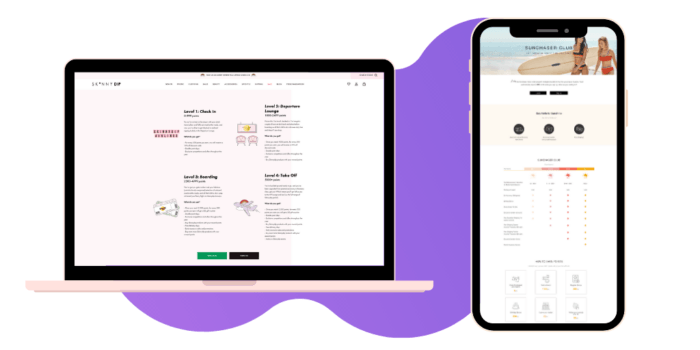 LoyaltyLion thrives on the ability to deliver effective loyalty programs with expert input and a host of automation features. Rewardable customer actions include the standard behaviours like social follows, purchases and referrals. Customers can also earn points for in-store activities, making LoyaltyLion a good choice for Shopify stores that still use brick-and-mortar stores.
Automation and analytics are an emphasis for LoyaltyLion. The platform automatically tracks specific customer segments based on their interaction (or lack thereof) with the rewards program. In tandem with automated segments comes a host of testing and analytics features that are designed to help stores determine the ROI of their rewards program.
Use Case
LoyaltyLion is well-suited for stores that want to diligently track ROI on their program and have access to testing and automation features.
Bold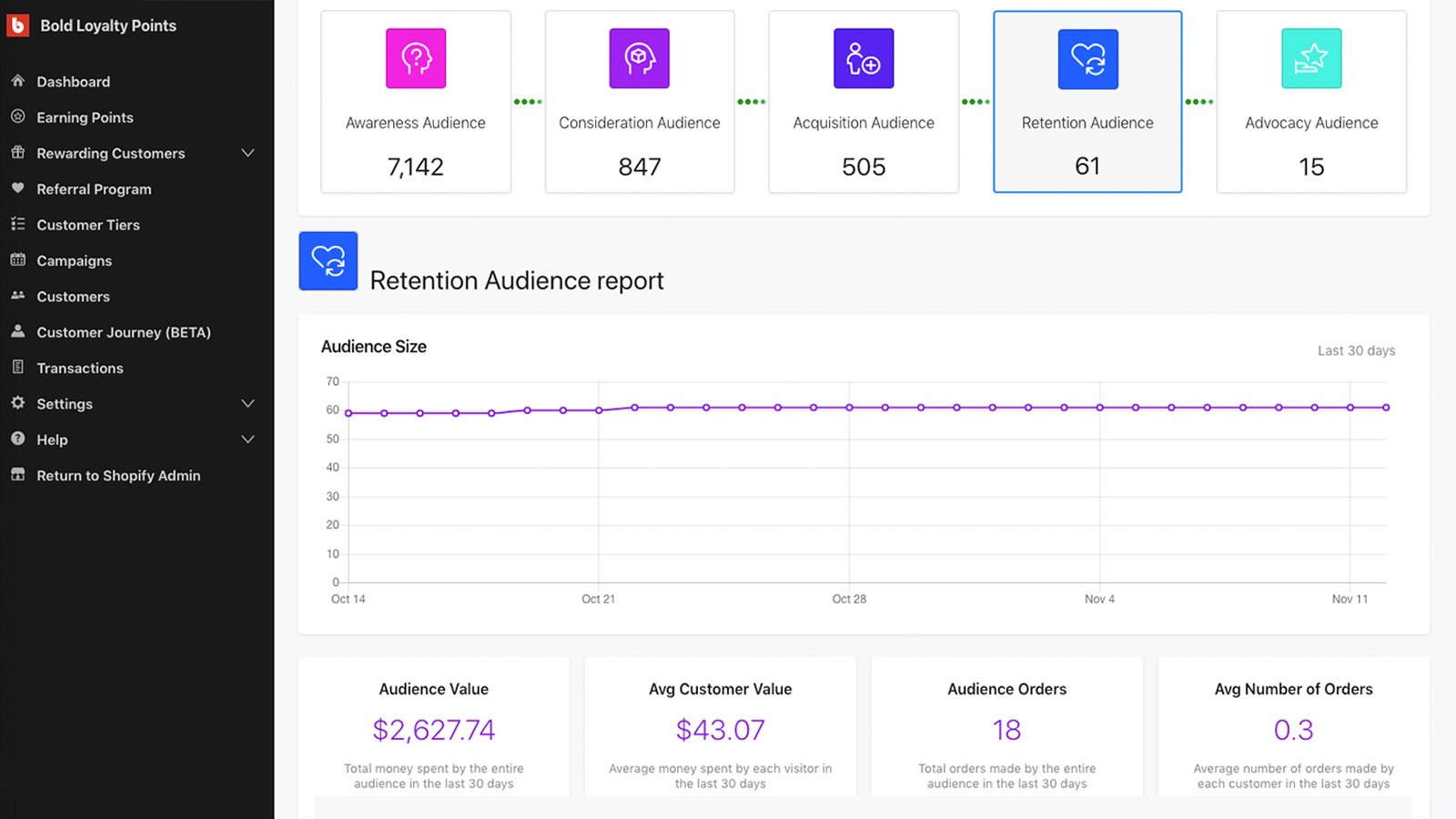 Bold is the à-la-carte choice for VIP membership rewards. Instead of being a definitive platform, a series of different standalone eCommerce apps are available that can be connected to each other to unlock specific features. Using a combination of Bold's discount and loyalty points apps allows stores to create straightforward and easy-to-integrate membership programs that reward customers for actions, although the trade off is minimal opportunities for customisation.
They are an ideal choice for stores that want to opt for the DIY approach and set up their own programs and integrations. For Shopify stores that opt for Bold, it's recommended to take a look at the entire Bold ecosystem of apps to see if there are opportunities to combine several of them to get more value from the system.
Pay-to-play memberships are also featured, where membership is purchased first to unlock special perks, products and access. This type of membership isn't the focus of many loyalty-driven programs, so Bold is a good choice for Shopify stores that want to use the pay-to-play strategy.
Use Case
Bold is great for stores that want to pick and choose which functionality they want on their platform. They're also excellent for pay-to-play VIP programs.
High-Engagement VIP Rewards Programs
All of the platforms in this category have features that allow for transactional actions like referrals and social shares to be rewarded, just like the platforms listed above. What makes this class of VIP membership platforms different is the added ability to create rewardable challenges, distribute status-based rewards and experiences that are specifically focussed on a community. These often require an added layer of customisation and resources.
Duel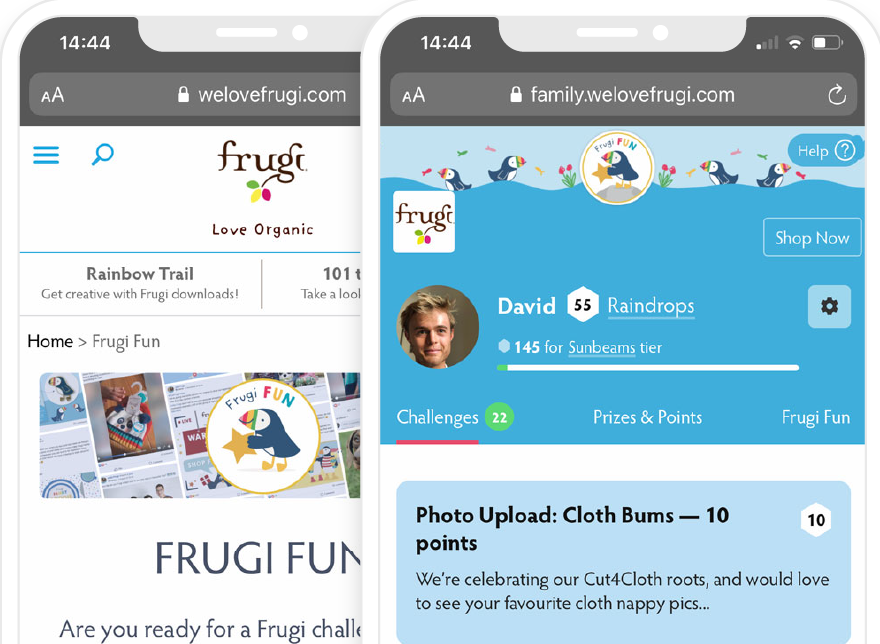 Duel is the platform that is most heavily invested in delivering bespoke and optimised VIP membership programs, which it does by providing a team of experts to help with program creation, implementation and management. It is the platform to choose for stores that want to ensure the quality of their programs is always high and adaptable to change.
Every plan on the Duel platform comes with VIP membership features, revenue growth features, a managed service and an entirely customised membership rewards program (built in collaboration with the Duel team).
Rewarded actions can be completely customised, including submission of unique content, sharing of stories or even travelling to specific locations. The rewards themselves are equally customisable and can include experiential rewards such as exclusive trips, unique access to sales or opportunities to design the next product.
This platform is ideal for stores that are willing to invest to get the best possible VIP program that is customised to their needs, customers and branding. Because Duel does not have a DIY plan, stores that don't want moderation and program building services should opt for a solution like Bold, where stores can pick and choose which components and features they'd like.
Use Case
Duel is a great choice for stores that want a fully optimised and custom VIP program that covers every base and comes with world-class expert input. Larger brands with passionate communities may disproportionately gain from using this platform.
Swell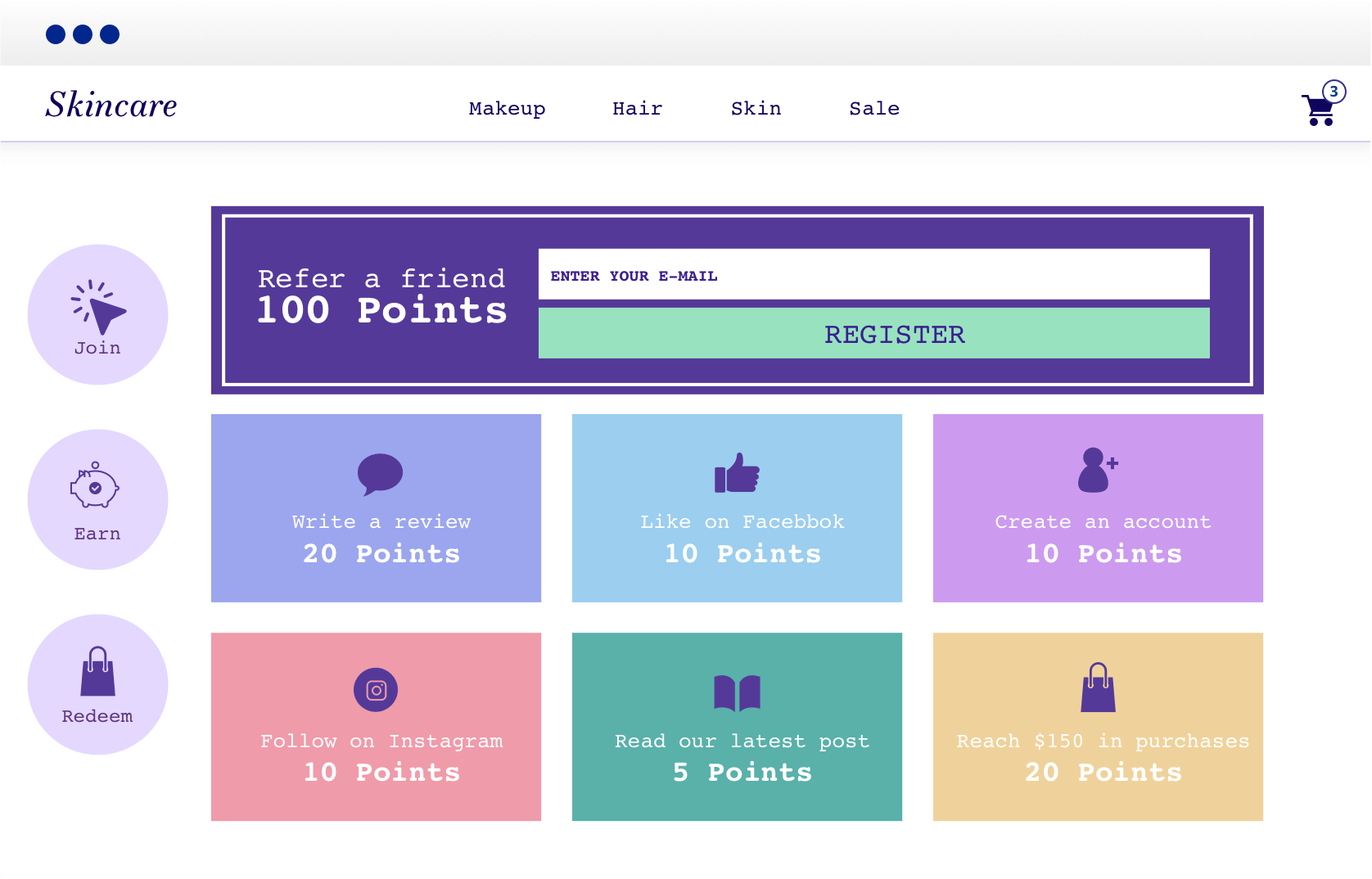 Swell is eCommerce titan Yotpo's response to Smile.IO's rewards platform. Swell's premium plan allows stores to build out VIP programs with a tiered system. The premium version comes with roughly 15 actions that customers can be rewarded for, with inclusion of the basics like social follows, reviews and referrals. What differentiates Swell from traditional loyalty programs places them in our High-Engagement Loyalty list is the method through which custom tasks can be created.
The premium plan allows stores to set up custom tasks to be rewarded, with the help of the Swell team. Much like Duel, the inclusion of a team to help with program development and task handling unlocks the ability to manage more nontraditional tasks really well.
Use Case
Swell is a great choice for emerging brands to build a VIP program, or brands that already utilise the rest of Yotpo's features.
The Power of a VIP Program
The power of VIP experiences can be the difference between a store's success and failure, and the right platform is a crucial decision throughout the process. Shopify stores that can craft the perfect VIP experience on the right platform will be able to unlock growth that is both organically sourced and resilient in the long term.