Blog
June 11 2022
5 Successful Brand Ambassador Program Examples
Read more
12 Brand Advocacy Platforms to Consider for 2020
Brand advocacy is a process that encourages passionate and happy customers to create new customers for a brand organically while keeping acquisition costs low.
Recent issues of declining trust in paid influencers and rising acquisition costs have placed marketers in a tough position. More than ever, people are turning to their mothers, cousins, coworkers and best friends to get opinions on where to spend their money and attention.
Marketers have long understood that customers can help them build brands—but the coming decade will require a greater focus on advocate community building and collaboration.
Brands of all sizes and industries have built effective marketing campaigns through the help of brand advocacy programs: systems that reward passionate customers for their advocacy efforts.
Both advocates and paid influencers can create content, refer customers and spread word-of-mouth marketing—but genuine advocates can generate more trust because of their authentic relationships.
A great advocacy program has to be built on a foundation of strong company principles. Brands who focus on great customer experience, a clear purpose and quality products have the raw materials to create a powerful advocacy program. From there, the challenge becomes properly organizing and preparing an advocacy program to be scaled—and that is where software comes in.
The emergence of brand advocacy software platforms and tools
All good advocacy programs are built on the idea of building a mutually beneficial relationship between a brand and their customers. Customers should be rewarded for their efforts to help the brands they love. It's important to note that advocacy has to be built on genuine love for a brand, customers that advocate only because they are being paid are not actually considered advocates.
The actual structure of a program is complex—but they typically center around a combination of loyalty & retention (keeping current customers happy), acquisition (growing sales & the customer base) and content creation (gathering assets or data).
A robust program that can reach a wide group of customers while maintaining a personalised, authentic customer experience is difficult to scale. Brands must have communication channels, points structures, signup forms, fulfillment systems and much more to run an effective program at scale.
Brands are now turning to tools and platforms designed for brand advocacy to help manage many of the systems involved in a brand advocacy program.
Considerations for a brand
Company size, revenue and budget are the most important considerations for your brand when choosing a platforms and tools.
This guide packages these variables in the following way:
Small Brands - $0-$5 million in revenue; small teams; often on Shopify; limited budgets for software (less than $12k per year)
Medium Brands - $5m to $100m in revenue; often on Shopify plus or Magento; larger marketing team; budget of $120k per year for software
Large Brands - $100m+ in revenue; using enterprise software; large marketing department; often multi-channel; $500k per year budget for software;
What to look for in a platform
Brand advocacy platforms can have a number of features:
| | | | | |
| --- | --- | --- | --- | --- |
| Task-Rewards System | Forums | Social Reach Tools | User generated content | Integrations |
| Managed Service | Branded Portals | Referrals | Loyalty Schemes | Customer Support |
For the purposes of this guide, we've split up the options into platforms and tools.
Platforms are great for brands that want a brand advocacy strategy that can serve multiple purposes like gathering market data, acquiring more customers, or building the overall reach of the brand. They often support integrations from more niche tools or platforms as well.
Tools on the other hand, cover a single aspect of brand advocacy using a highly-focussed solution.
Platforms
Brand advocacy platforms allow brands to design with multiple marketing objectives in mind.
Google Suite
For small brands with minimal budgets
Brand Size: Small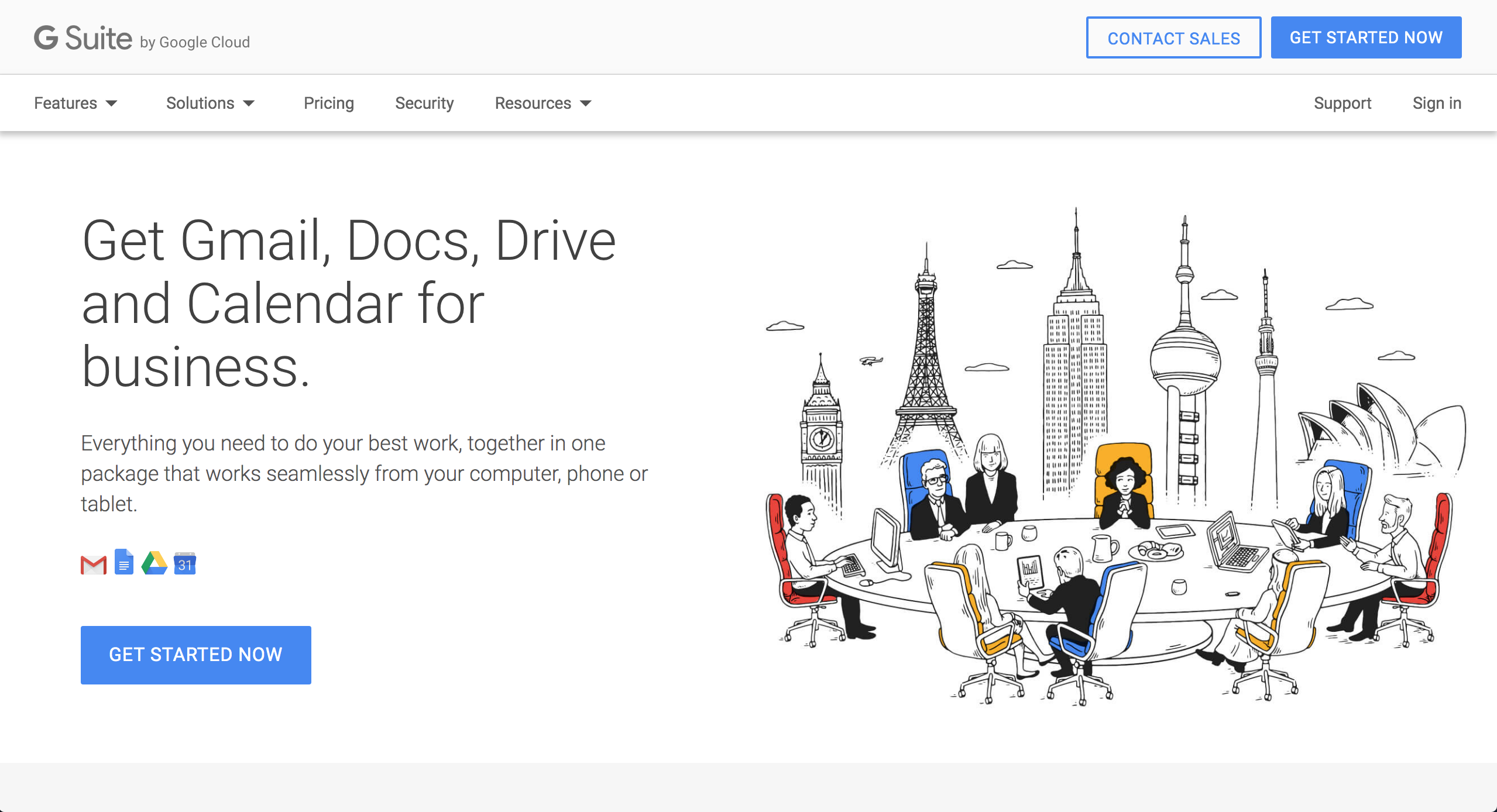 The Google Suite may not be the first platform that comes to mind when marketers think of brand advocacy, but it has many of the tools required to implement a do-it-yourself option on a small scale. Brands that are fresh startups or small shops can use simple spreadsheets to track their rewards and gmail to communicate with customers about delivering rewards.
Who It's For: Google Suite is only recommended for extremely small brands that are budget conscious and willing to implement brand advocacy on a small scale. Brands that are anticipating quick market growth should be prepared to switch over to another platform to ensure their program is able to scale. Google Suite can also be used to prototype a brand advocacy program before committing to more specialized platforms.
Who It's Not For: Google Suite is not recommended for brands with thousands of customers that need to be managed—nor is it a good choice for brands that are expecting to experience quick growth in a short period of time.
Duel
For full customisation and genuine advocate relationships
Brand Size: Medium to Large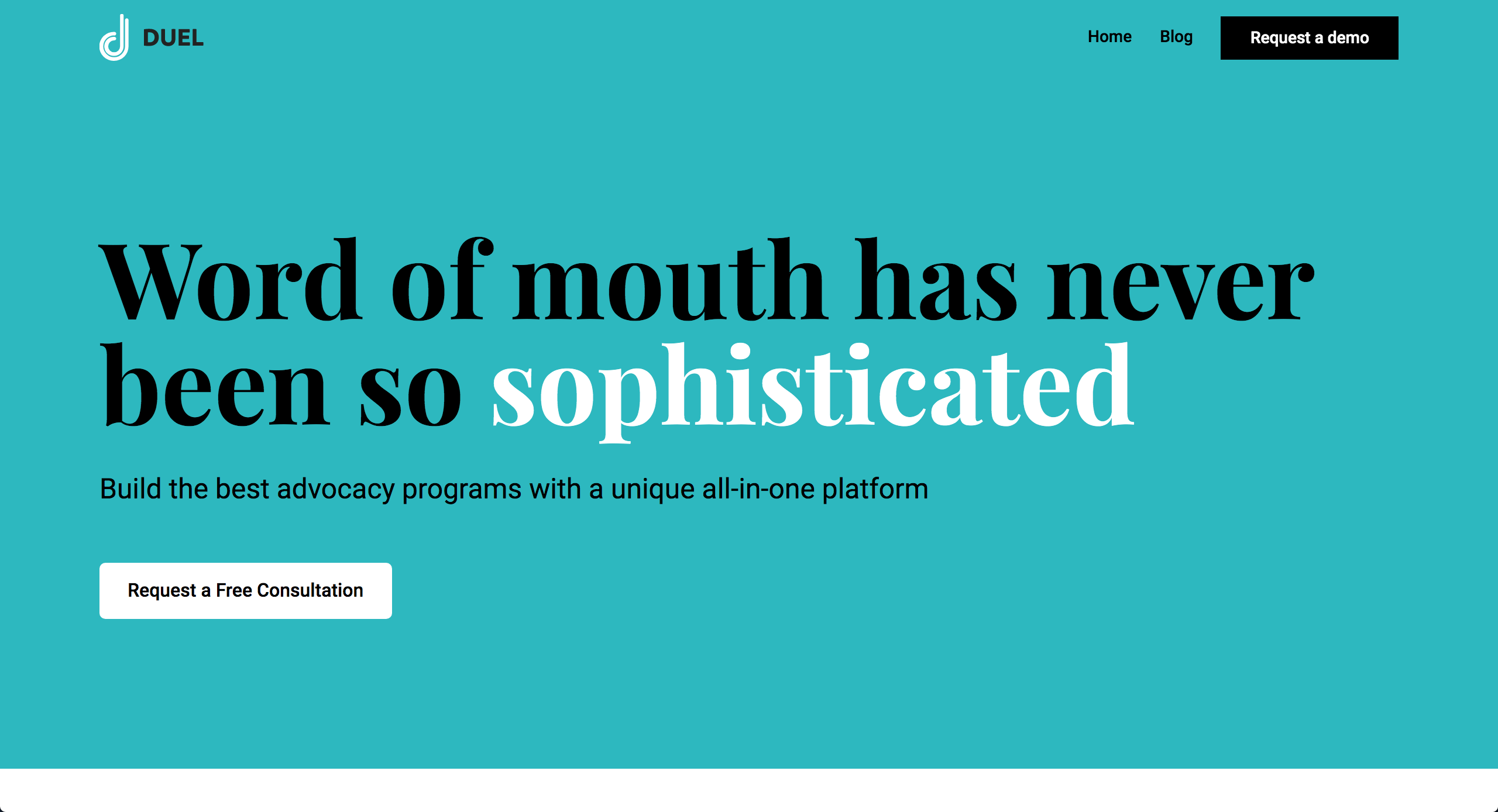 Full disclosure: Duel is our own platform.
Duel is built with customisation in mind and allows brands to build advocacy programs that centre around giving advocates rewards for completing a wide variety of tasks and moving through tiers. It is designed to bring value to brands that want to include as many of their authentic, passionate customers as possible (as opposed to a highly curated club).
The platform is also packaged with a managed service that guides brands through the program building process and manages many advocacy operations.
Although Duel has the advantage of being built on modern advocacy principles, it is a relatively new product—the platform is emerging from beta in early 2020 and is best-suited for early adopters.
Who It's For: Duel is ideal for brands with a direct-to-consumer channel that sell passion-oriented products and rely on brand love or word-of-mouth marketing as a key part of their strategy.
Who It's Not For: Companies looking for low-cost, do-it-yourself options will be priced out of Duel's offerings and don't need the functionality. Brands that don't rely on organic channels for their marketing or compete on non-emotional advantages (such as pricing) will likely find little value in the Duel platform as well.
Zuberance
An end-to-end solution for mid-market brands
Brand Size: Medium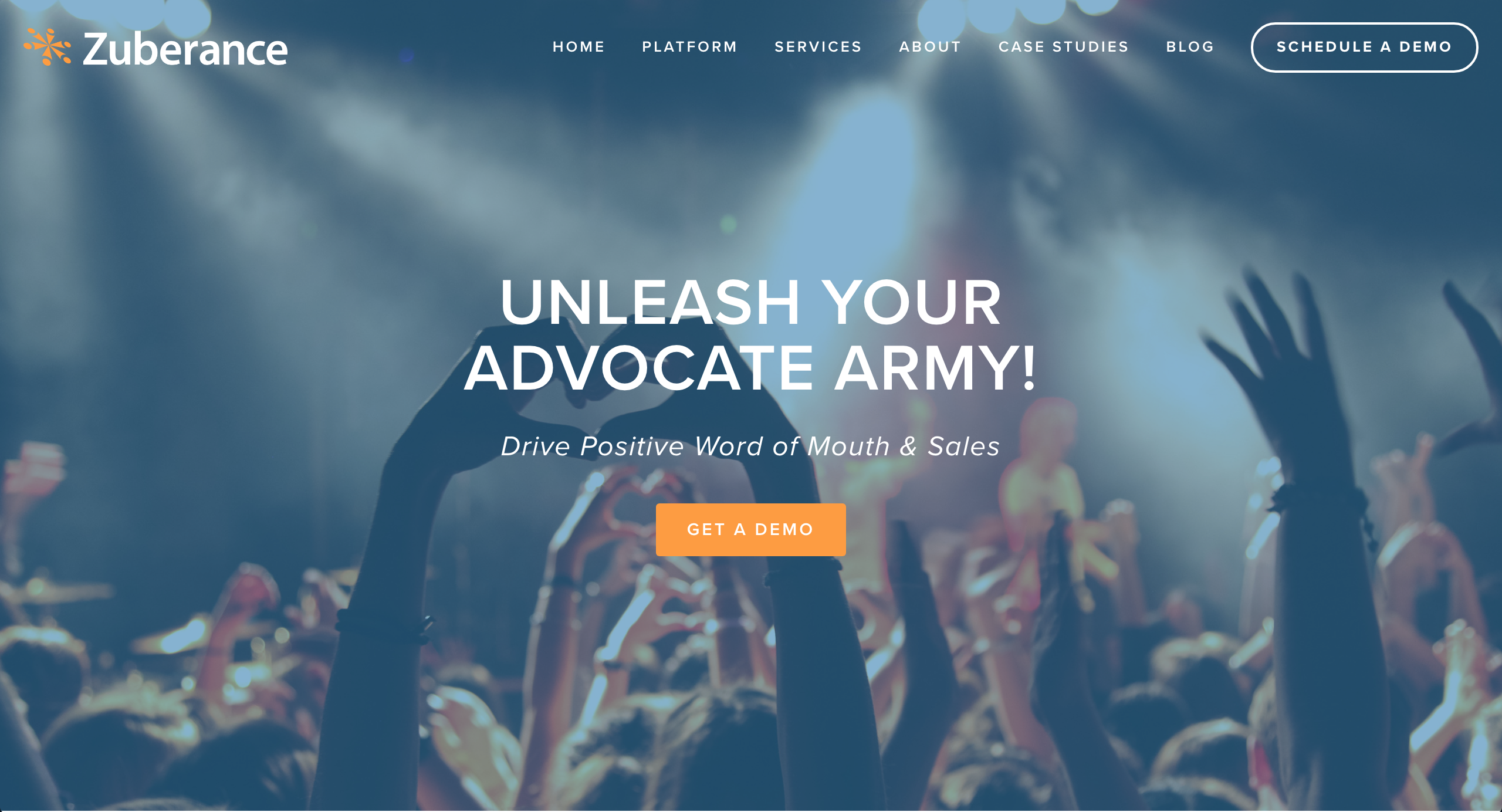 Zuberance is a full-service consultancy for brand advocacy that is ideal for brands who are looking for a partner to handle the majority of their advocacy operations.
They offer end-to-end service from strategy to delivery of brand advocacy campaigns using a number of cloud tools packaged together on their platform.
The platform itself is hosted by Zuberance and allows brands to capture advocates through emails, social channels, online communities and a number of other ways. Once the advocates are found, Zuberance allows brands to encourage specific behaviours that generate reviews, referrals, communities or market research.
The Zuberance platform isn't designed with a specific customer segment in mind, leaving it open to the risk of being too generalized—brands will need to have a strong amount of customer data to ensure their program is well targeted. Zuberance may also be a struggle for brands that are experiencing growth, as features that help with scaling (such as artificial intelligence for content processing) are missing.
Who It's For: Zuberance is perfect for mid-market brands that want a full-service consultancy but don't need scalability in the short to medium term.
Who's it not for: Zuberance isn't for those who are looking for a DIY tool or individual, ad-hoc services. Brands should be prepared to implement an advocacy strategy that touches on multiple marketing goals and is based on well-detailed customer data.
Zyper
For large brands looking to run short-term advocacy campaigns
Brand Size: Large
Zyper bridges the gap between micro-influencers and customers. Potential advocates must be invited by a specific brand or matched to their brand of choice by submitting their Instagram account as an application.
Once they're accepted, advocates use the app to upload images or have specific conversations in return for prizes. Zyper also offers a leaderboard that allows advocates to track their metrics against others to see how they measure up.
Brands use Zyper to run short-term micro-influencer campaigns, but they are still building authentic advocacy because of the focus on organic fans.
The company has worked with a number of large brands on board, including Nike, Kellog's and Unilever.
Who It's For: Zyper is great for larger, established brands who are looking for a highly-curated audience—especially ones that are focussing on Instagram as a platform for creating content.
Who's It's Not For: Brands who want to develop larger-scale customer networks that maximize authenticity should look at other platforms on this list. Zyper campaigns also require minimum budgets in the hundred thousands and so should be considered by larger brands who can invest appropriately.
Yotpo
A DIY choice for smaller brands or giants
Brand Size: Small and Large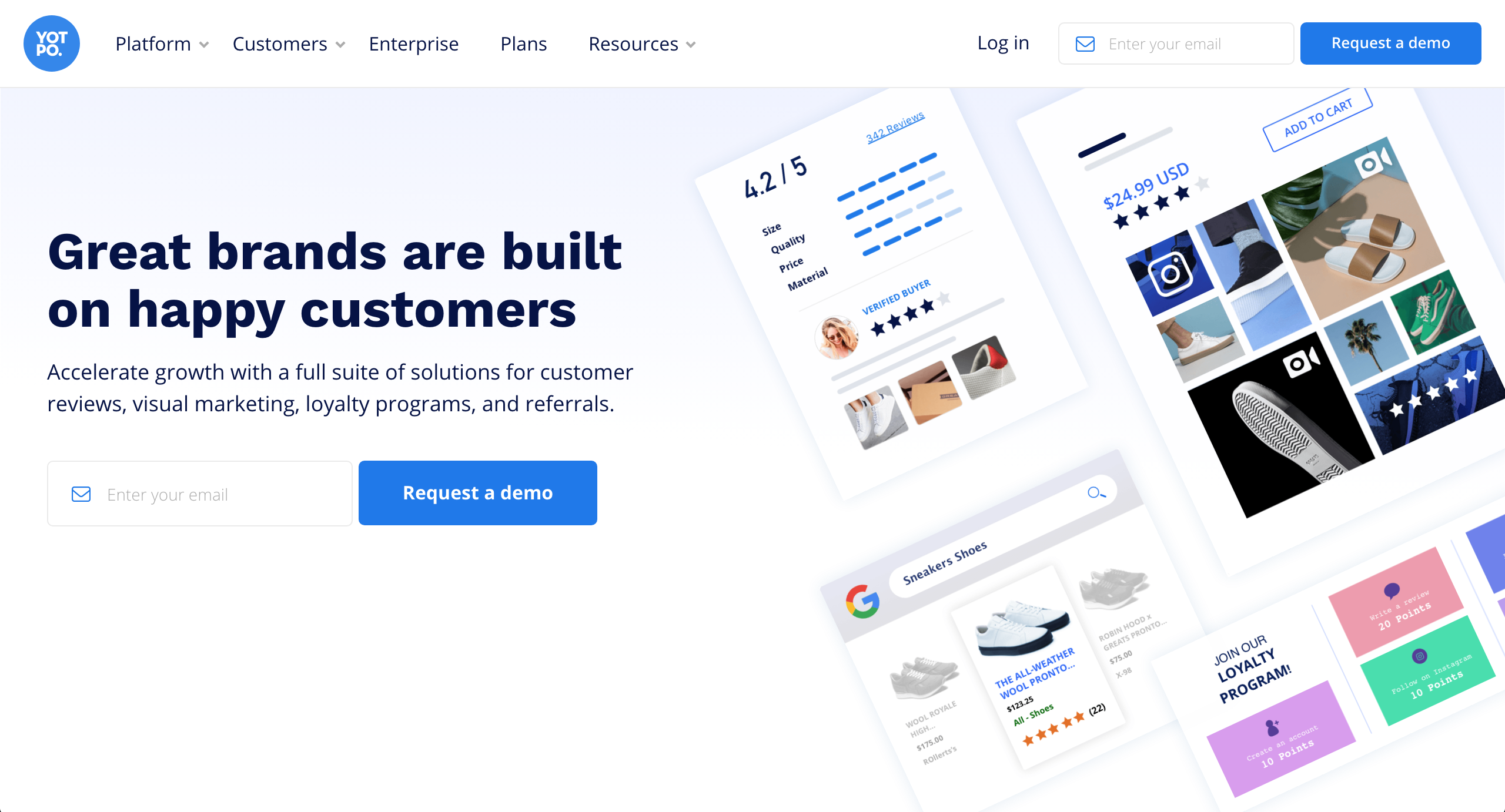 Yotpo brings together several traditional marketing features under one umbrella. The platform is designed to improve the eCommerce customer experience in a number of ways—it supports functionality for reviews, referrals, visual marketing and more.
Yotpo isn't necessarily designed directly for brand advocacy—but many of its features can be implemented to improve a customer's journey.
Features are split across multiple payment plans but basic features for reviews, loyalty, and content management are included in the free plan. The free version of the platform allows brands to manage their own programs and content generation but is limited to accounts with a monthly order volume of 50 or less.
Brands looking for features in visual marketing and integrations will have to sign up for a paid plan. The price will vary according to a company's monthly order volume.
Who It's For: Yotpo appeals to two major segments. Small, lean brands that need a do-it-yourself option, and large brands with the budget to roll out a fully-featured digital customer experience platform. Brands opting to use Yotpo should be very clear on what they want out of a platform in terms of features before buying, the price varies greatly depending on the need for specific features.
Who It's Not For: Brands that have too many orders for Yotpo's free plan but aren't looking for a high-budget enterprise option should look into other platforms that are designed for mid-market brands such as Annex Cloud or Duel.
Annex Cloud
For loyalty-first programs
Brand Size: Medium to Large Brands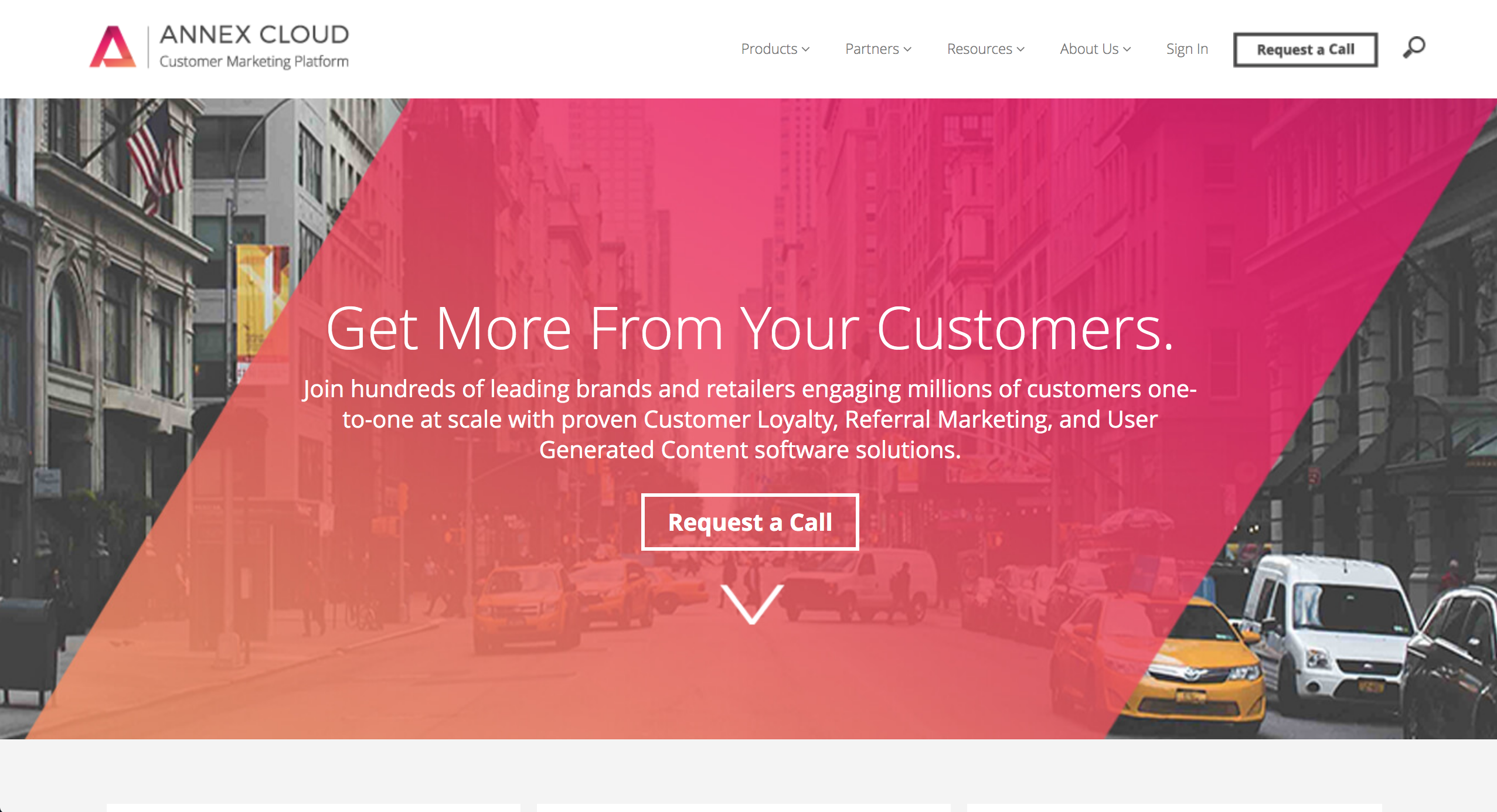 Annex Cloud is a loyalty-focussed platform that also provides added solutions for referrals and user generated content. The three components can be implemented as standalone options or as a larger platform.
It's a particularly helpful platform for brands that are manufacturers or have physical point-of-sale systems to integrate with. Their loyalty solution is the most robust of their offerings—the company partners with you to integrate technology, implement the program and optimize it from there on out.
Who It's For: Annex Cloud is a good choice for mid-market brands that are dealing with physical storefronts and manufacturing and want a strong loyalty program. It's also effective for brands that want a wider platform with referral and user-generated content functionality, but want to emphasize the loyalty.
Who It's Not For: Annex Cloud isn't a plug-and-play solution so brands should be ready to work closely with their team to get the most out of the platform, especially if the platform is meant to integrate with many other tools in an eCommerce solution.
Tools
Tools are designed for highly specific use cases and work well with marketing goals that are highly focussed on a single component like referrals or loyalty.
MentionMe
A laser-focussed referral platform
Brand Size: Medium Brands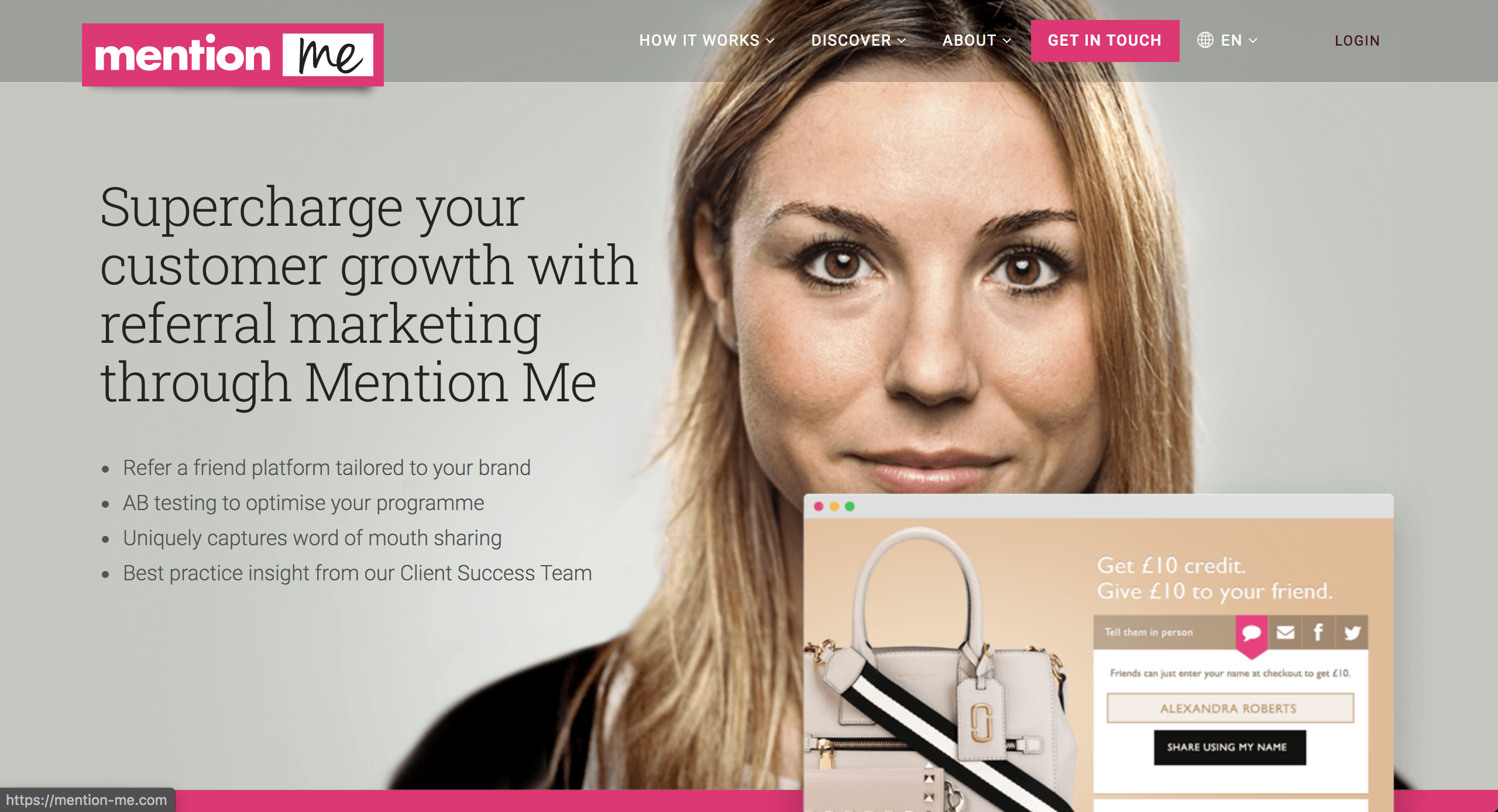 MentionMe is a great example of a company developing excellence in a single feature: referrals. The tool on offer is designed with that single purpose and is perfect for brands looking for an extremely specific referrals-based solution.
MentionMe touts strong features including robust A/B testing across campaigns and quick integration into eCommerce platforms. Opportunities to draw customers in for referrals can be found through post-purchase e-mails, social sharing, simple name sharing and more.
Importantly, MentionMe handles the fulfilment of your rewards to customers which is particularly helpful for brands who need operational help with fulfilments like coupon codes, discounts and digital rewards.
Who It's For: MentionMe is designed for customer acquisition via referrals in an eCommerce space. It's perfect for brands that are specifically looking for a referral feature to be built into their larger marketing initiatives. Customer segments should also find digital-specific awards appealing.
Who It's Not For: Brands with marketing goals that span across retention, loyalty, new customer acquisition and brand development would be better off opting for a platform with a wider set of features. It's important to consider that it's often impossible to determine if customers are simply referring themselves with different emails or devices.
Ambassify
For creating advocates from employees
Brand Size: Medium to Large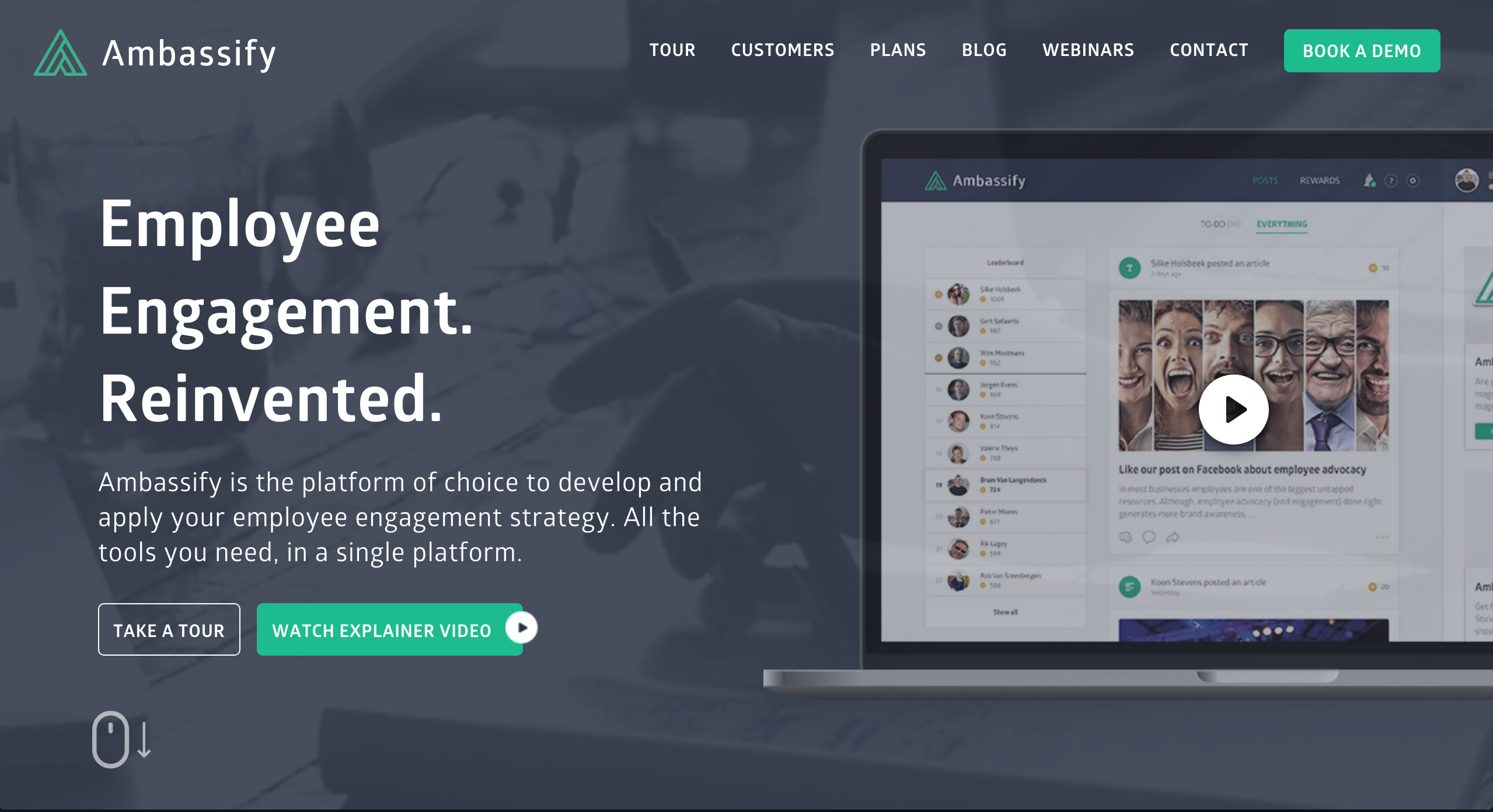 A company's employees are often a dormant but powerful source of advocacy. Ambassify is specifically for companies that want to charge their brand advocacy efforts directly through their own internal teams.
Because of the intense focus on employees, Ambassify's platform is home to a few unique features that aren't found on other platforms on this list. Companies can use tools specifically for internal communication to stay directly in touch with their employees. There's also specific interactions like introducing a new employee and submitting to a suggestion box that can help create a stronger community within a company.
Who It's For: Companies that are looking to harness the energy of employees to market their brand to a wider group will find Ambassify helpful. Alternatively, Ambassify can be helpful to companies that are trying to strengthen their team culture and reduce turnover by increasing transparency and creating a stronger community. Features for brand advocacy outside the confines of employees do also exist, but other platforms on this list would be better suited.
Who It's Not For: Brands that are focussed on creating advocates out of passionate customers (as opposed to employees) will miss out much of the features Ambassify is offering.
Loyalty Lion
For going all-in on loyalty programs
Brand Size: Small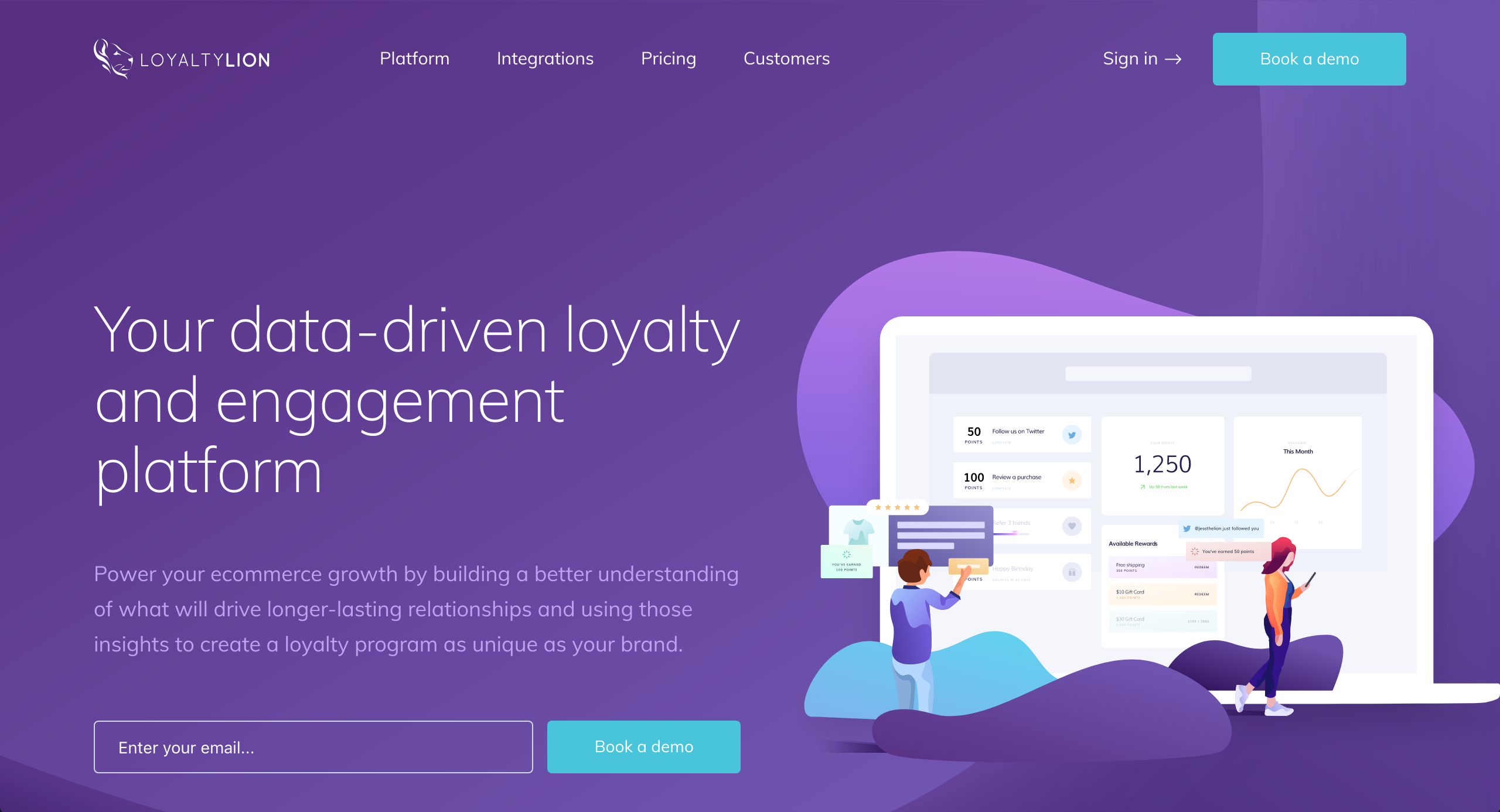 The focus of Loyalty Lion's offering is baked right into their name: Loyalty. The adage that it's more valuable to keep a customer than it is to gain a new one is a time-tested pillar of marketing. Loyalty Lion's functionality is centred around building points-based loyalty programs—programs that reward customers for repurchasing. These programs do differ from advocacy programs, as advocacy programs tend to reward customers for a wider array of tasks and focus on converting customers into passionate advocates for the brand.
Who It's For: Companies looking to get more value from current customers or reduce customer churn through a loyalty program should consider Loyalty Lion. It is also beneficial for companies that sell products that will benefit from a loyalty program such as products with quick purchase cycles or low barriers to entry from competitors.
Who It's Not For: Companies that don't have expertise in the concepts of a loyalty program or minimal amounts of information on what appeals to their customer may find Loyalty Lion difficult to use because of its DIY nature.
Grin
The platform for influencer marketing
Brand Size: Medium to Large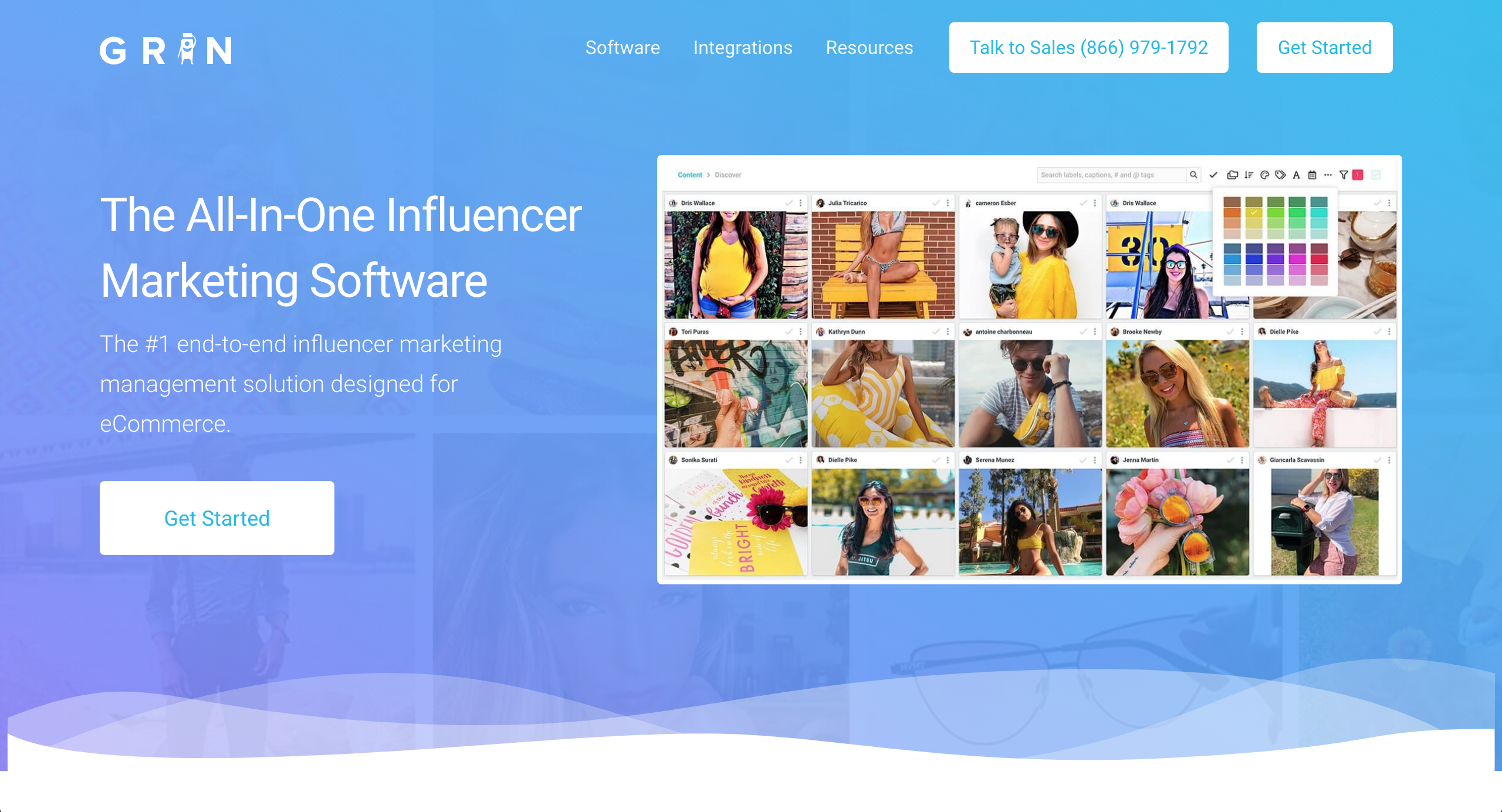 Grin is specifically designed to find and manage brand influencers. Through Grin, brands can find influencers or import their own list and manage their communications all in one place. Think of them like a CRM and content management tool, but specifically for influencers. Grin can be used to manage payment, visual content, communications, track revenue and manage integrations.
Who It's For: Grin is a great choice for brands that have doubled down on influencer marketing and visual marketing. Brands that are looking to connect with a wider array of brand advocates should focus on other platforms on this list.
Who It's Not For: Grin is not designed to manage relationships with authentic customers. Features such as payments for example, would not be used for advocacy specific operations.
Olapic
A fully-featured platform for user-generated content
Brand Size: Medium to Large
Olapic is designed to provide a full-fledged pipeline of user generated content from influencers and content creators to a company's marketing channels. Olapic uses a combination of human moderators and technology to build out their pipeline.
The platform has the major benefit of covering the entire UGC process—from requesting content, to gathering rights, editing and publishing on marketing channels. Olapic also notes the ability to create motion graphics from assets that are gathered.
It's important to understand that organic content needs to exist in the first place to draw value from Olapic or PhotoSlurp (listed below). Brands that need to encourage the creation of organic content in the first place should look at advocacy platforms that can encourage that behaviour via rewards.
Who It's For: Olapic is considered a higher-end content engine solution in terms of price. The tool is also loaded with features surrounding user-generated content, and so brands should be willing to use Olapic through their content pipeline to maximize its value.
Who It's Not For: Leaner brands that aren't ready to invest heavily can consider PhotoSlurp (listed below) who offer similar features at a more affordable price.
PhotoSlurp
An affordable alternative to Olapic
Brand Size: Medium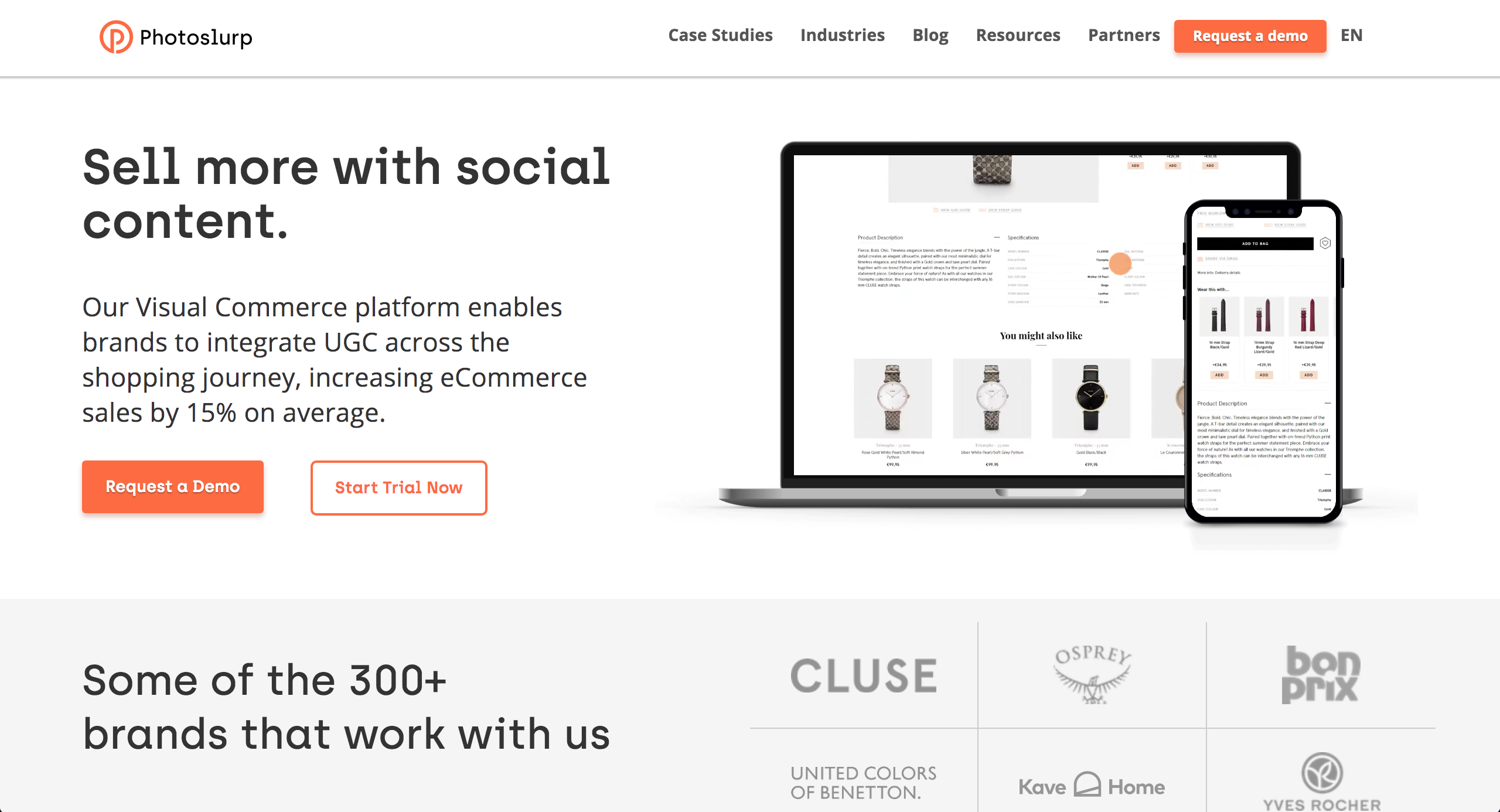 Photoslurp is designed as an engine for user-generated visual content. The upside of visual content from users and customers is the authenticity. To see products out in the wild can help customers visualize their appeal.
Photoslurp's feature set is designed to integrate user generated content into a company's eCommerce platform. Images can be automatically gathered based on variables like tags, stories or mentions and then published directly into galleries on an eCommerce site.
Just like Olapic, brands should understand that organic content needs to already exist in order for PhotoSlurp to be used effectively.
Who It's For: PhotoSlurp should be considered by eCommerce brands that are specifically looking to automate the process of gathering user-generated content and need a tool to manage the process. Photoslurp is considered a more price-friendly alternative to Olapic as well.
Who It's Not For: An engine for user generated content will be difficult to leverage in a marketing strategy that doesn't have a visual marketing component. Brands that don't have a strong grasp on what the channels and market segments their content is for will struggle to create value.
Brand advocacy platforms are too diverse to be picked without consideration. The perfect solution doesn't exist—companies should understand their own brand advocacy needs and the specific features that they need for their marketing strategies to thrive.