Blog
June 11 2022
5 Successful Brand Ambassador Program Examples
Read more
Tackling Threads: Navigating a game plan for Instagram's newest platform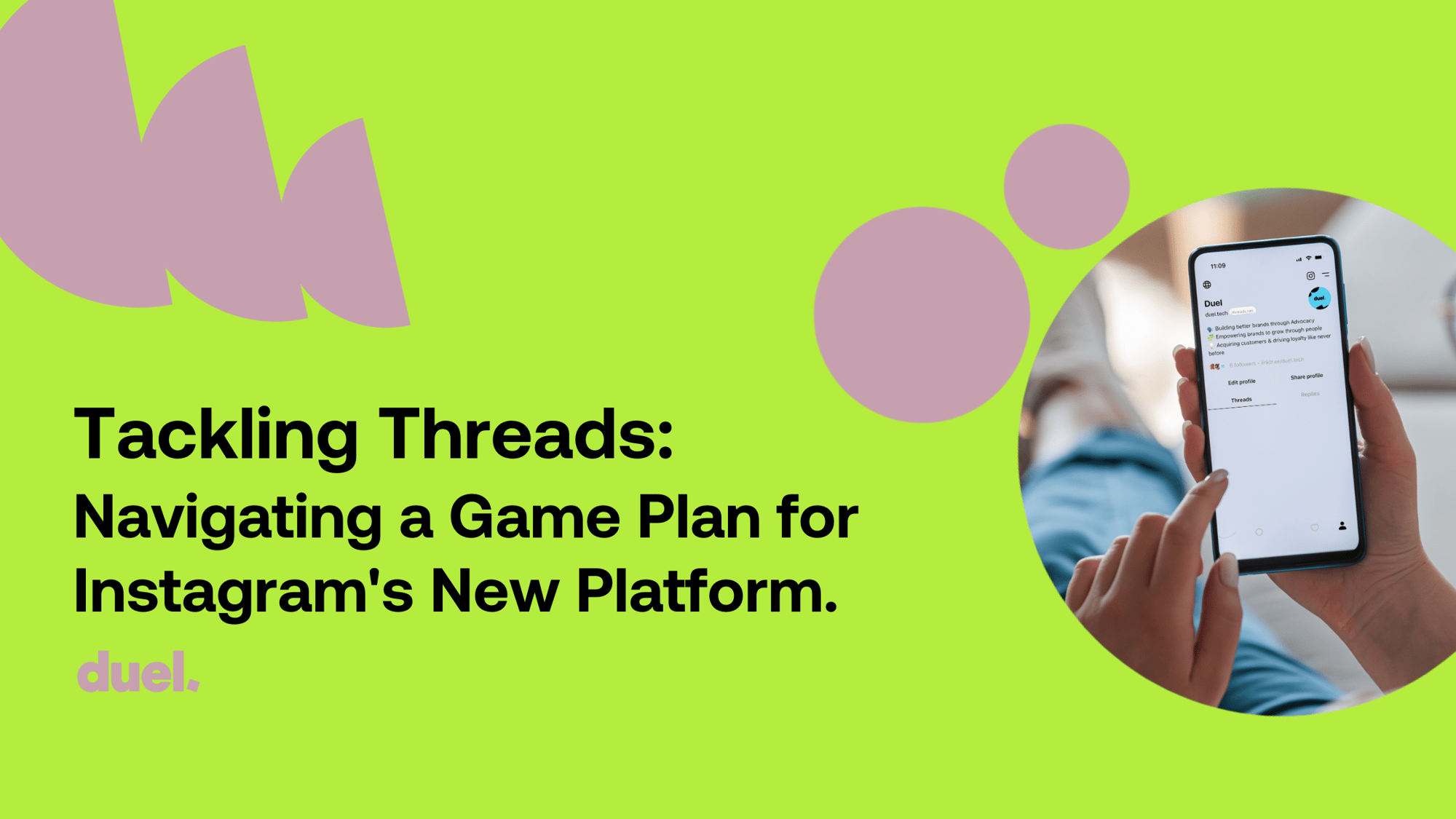 On July 5th, Meta released Threads into the World. Its arrival came after months of anticipation, it's the fastest app to hit 100 million downloads, and later blew past 150 million which came as a surprise to almost everyone involved. So it's no surprise it's the talk of all marketing teams and left everyone a little confused as to what they are meant to do with this new social media platform.
Earlier this month we gathered over 40 brands to attend a Duel Webinar to jump into the world of Threads together. Watch it here.
This webinar covers what Threads is, how it connects to the Fediverse, its key features and planned updates, creative examples of how brands have already started to set the tone of the platform, and rounding off with insider top tips and best practices.
Table of contents:

What is Threads?
"Threads is where communities come together to discuss everything from the topics you care about today to what'll be trending tomorrow. Whatever it is you're interested in, you can follow and connect directly with your favorite creators and others who love the same things — or build a loyal following of your own to share your ideas, opinions and creativity with the world."- Head of Instagram
Unlike most new social networks, Threads is actually built off of Instagram. This means it's in fact a stand-alone social network with its own app, but you need Instagram to sign up for it.
Threads sign-up also includes an auto-follow button, allowing your new Threads account to follow every account you follow on Instagram.
That means there's a very high chance that every single one of your Instagram followers who joined Threads decided to auto-follow your brand account. Because of this Thread users witnessed seeing brands with hundreds of thousands of followers in less than 24 hours.
At this moment, the primary question that has replaced "what is Threads?" is whether Threads will become successful and widely adopted.
Currently retention and engagement rates have already dropped off. Threads daily active user count has dropped by around 70% since launch, data.ai reports that Threads downloads have slowed significantly.
The reason most new social networks fail: they can't reach scale fast enough.
But history shows that engagement rates will drop off, especially as many people will download the app to see what all the fuss is about, and then never open it again. Remember clubhouse, anyone?
Early adopters come, but there isn't enough content or users to generate the necessary engagement or dopamine hits. But Threads has instant access to Instagram's 2.35 billion monthly active users. Within 2 weeks Threads matured into a thriving, active social network.
Early growth was off the charts, but more importantly, 10s of millions of people now come back daily. That was way ahead of what was expected. The focus now for the network is to improve the basics and retention. They admit it will take time to stabilize, but once they nail that, they will focus on growing the community. And the most important thing to remember here is that they have done this before, on Facebook, Instagram, Stories and Reels. Meta hasn't yet failed at anything.
Threads vs. Instagram
Threads is a true community builder; an 'Instagram for your thoughts.'
Although it's technically a spin-off of Instagram, Threads doesn't actually compare to it in any way. It's important to think of Threads as a complement to Instagram versus a direct comparison. Both are working together to aid in public conversation. Instagram is through photos and videos, and Threads being mainly through text. Threads is a true community builder and 'Instagram for your thoughts'.
Threads vs. Twitter
Twitter is the most direct comparison to Threads right now. Threads has openly been positioned to rival Twitter and does so in just about every way. The apps visually look and feel very similar, the basic capabilities are almost identical. Having many more years under its belt, Twitter has some additional features like direct messaging, Spaces and Communities — which has been said to be coming soon to Threads.
Threads is trying to move towards encouraging people to focus on topics such as entertainment, sports and music rather than politics or hard news.
It does not aim to "replace Twitter".

The Fediverse
The plan is to make Threads part of the fediverse, a social network of different servers operated by third parties that are connected and can communicate with each other. Each server on the fediverse operates on its own but can talk to other servers on the fediverse that run on the same protocol. They plan for Threads to use a protocol called ActivityPub to talk to other servers that support this protocol.
Instagram's vision is that Threads will enable you to communicate with people on other fediverse platforms we don't own or control. This means that your Threads profile can follow and be followed by people using different servers on the fediverse. Your content and information may be shared with those servers, for example, if you interact with content from other servers or if you have followers from other servers. If you have a private profile, you can approve follow requests before people on or off Threads can follow you. Users from other servers will have the name of their server added to their username displayed on Threads.
The servers on the fediverse are distributed and decentralized, meaning that changes on one server may not affect other servers. Because of this, changes you make to your posts will affect how they appear on Threads, but may not change how it shows up on other servers. For example, when you delete a post, it'll no longer be visible on Threads and Threads will ask other servers to delete it, but the post may still be visible on other servers that Threads doesn't control.
Instagram has said:
"If you are a creator, you should own your audience. Integrating into this protocol should allow us to enable you to take your followers with you to another server or app, should you decide to in the future"

Key Features
Now that they've launched, Instagram head Adam Mosseri says the team is focused on:
Post text-based Threads including photos, videos, gifs & links
Reply to & engage with other users' Threads
Quote other users' Threads to share with your Reply
Follow Profiles of others using the app
Search for more Profiles
Share Threads content to your Instagram Grid or Story
They are also being very transparent with this journey, with Mosseri and Zuckerberg giving updates on threads regularly and informing us of hidden gems and upcoming features. Such as:
A following feed
An edit button
Multiple account access
Post search
Hashtags (eventually)
Web presence
Like list
A Threads Brand Deck being sent to some Partners also includes these upcoming features:
Compatible with Mastodon
Trends & Topics
Improved Search
Direct Messaging

Top Tips and Best Practices
The biggest thing we have noticed is brands showing up with BIG personality. Users want to see the personalities and see brands become more humanised and this space feels right to do it in. Essentially we're in the test-and-learn phase—try things! Experiment!

Use Instagram as your portfolio, and Threads as your playground.

Test repurposing your brand's Twitter + Instagram content, while testing totally unique, brand-new custom content for Threads. Measure engagement and start to build a content strategy based on the results
Use Threads as a form of advocacy, but take a lighter approach. If a customer is willing to participate, ask them for a quote, based on a more creative/fun question you have come up with. (This is currently a more lighthearted app where people love to learn in a more positive environment.) Remember, people are looking for eye-catching moments to respond to
Do Q&A with customers on Threads. Whether a customer, partnership or professional this is a fun way to do a five-minute Q&A session, where others can participate.
Where possible posts to your thread should have an eye-catching image or GIF to accompany so people stop and participate.
Many brands see success by being active in not only their own threads but other brands' threads too. Don't be afraid to add your two cents to a conversation that is relevant to your market or industry – or something completely different – to garner more engagement
Connect with your community - Consider Threads another way to connect and engage with your community. Due to the nature of the app, there's a high chance your Instagram followers will cross over to follow you on Threads too
Develop a weekly series – become known for something
Stick with your niche, but talk about wider topics that align by getting involved with other brands and creators posts
Threads has been emailing influencer agencies directly, to share these tips for Creators...
Make an 'Epic Entrance'; image/meme + open-ended question = first Threads post gold.

Instagram is pushing this form of interactive content. The email includes a tip on how to create a poll on Threads — which doesn't yet have an official polling tool — by posting two images and using emojis as a way to vote.

Start innovative conversations (i.e. the make-your-own poll).
Challenges & contests are gaining traction
Weave together content about Threads (puns welcome).

Content about Threads is thriving on … Threads. Oh, and puns are cool again. Meta also includes its own "Meta" pun in the email, prompting creators to "Get ~Meta~ About Being On Threads," and post about the platform, per the email.

Utilize all the features available to you.

Make the most of features that are already available. While the company is working to launch more features in the near future, the email highlights several tools already at the creators' disposal to help make the platform engaging and a safe community. These features include the ability to attach up to 10 pieces of content, limit replies, and post up to five-minute-long videos.
Summary
In its short existence, Threads has already become a platform focused on community, bonding and real conversations. Not manufactured posts to sell or promote. Brands are actively building community with not only their loyal followers from other platforms but other brands, too, by engaging in casual conversation and replying to questions and comments. So this is a huge opportunity to use this space to build connection and increase your brand loyalty.
Three words: don't overthink it.
Remember, there's no pressure to share the right content or have a Threads strategy set in stone — especially if you're at capacity managing other business-as-usual platforms (or feeling overwhelmed!).