Blog
June 11 2022
5 Successful Brand Ambassador Program Examples
Read more
How Lego crowdsourced its way to $9.5bn in revenue for 2022
Lego is the most valuable toy brand in the world for a 9th consecutive year - worth more than 4x as much as the next brand on the list, Bandai Namco.
With over 900 stores worldwide, of which 155 opened in 2022, the brand is showing no sign of slowing down. So how does Lego consistently beat out competitors like Hasbro, Bandai Namco and Mattel?
This article explores how Lego taps into adults' sense of wonder and nostalgia to nurture a community of brand fans turned lego designers - keeping Lego relevant, fuelling product innovation and improving its bottom line.
For all intents and purposes the brand is in the business of building toys for children, but it's the adult fans that are crucial to driving new product build and demand.
Table of contents
Lego Ideas
The 'What': A platform where brand fans (aged 13+, but an overwhelming majority of adults) can submit their ideas for Lego sets, share it with the Lego fan community and drum up support for it. The end goal is to see your concept come to life - with the Review board giving it the green light and putting it into production for official release.
How does it work: A creator submits a model built either with real bricks or designed virtually. Alongside the model, they submit photos and a written description. Once Lego approves the initial idea, it's time to rally supporters within the online community.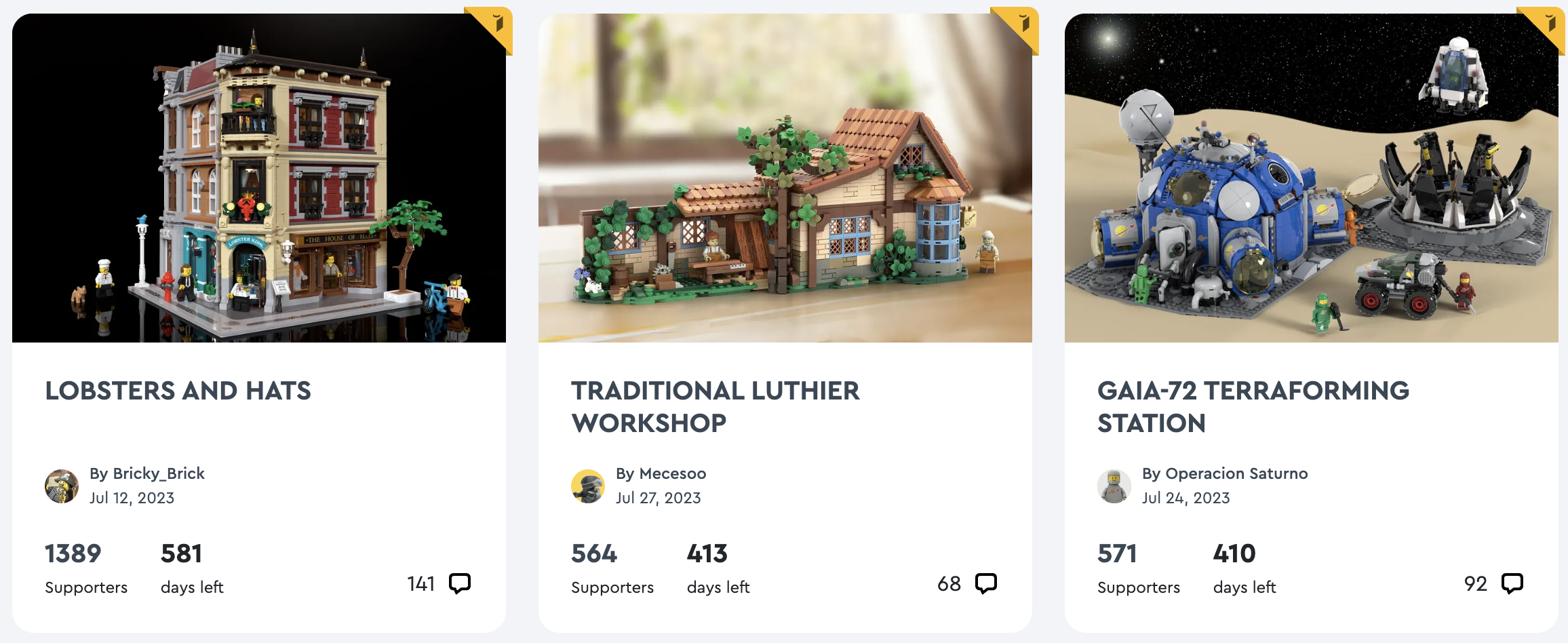 In order to get to your design in front of the Review board, you need to recruit 10,000 supporters over 2 years. At this point if the Review board gives the go-ahead, the official Lego designers collaborate with the creator to finalize the model and get it ready to sell.
All that's left then is an official signing event with the creator getting the glory and penning down autographs for fans. Plus, the sense of achievement at seeing your product on the shelves is pretty cool, right? Also cool is the opportunity to earn 1% of royalties from product sales.
The Genius: Product innovation, on tap. The Lego team don't just have to depend on internal creative talent, but have found a way to crowdsource ideas they know have fans that are already willing to buy it. Between May 2022 and September 2022 an incredible 51 submissions had garnered 10,000 supporters.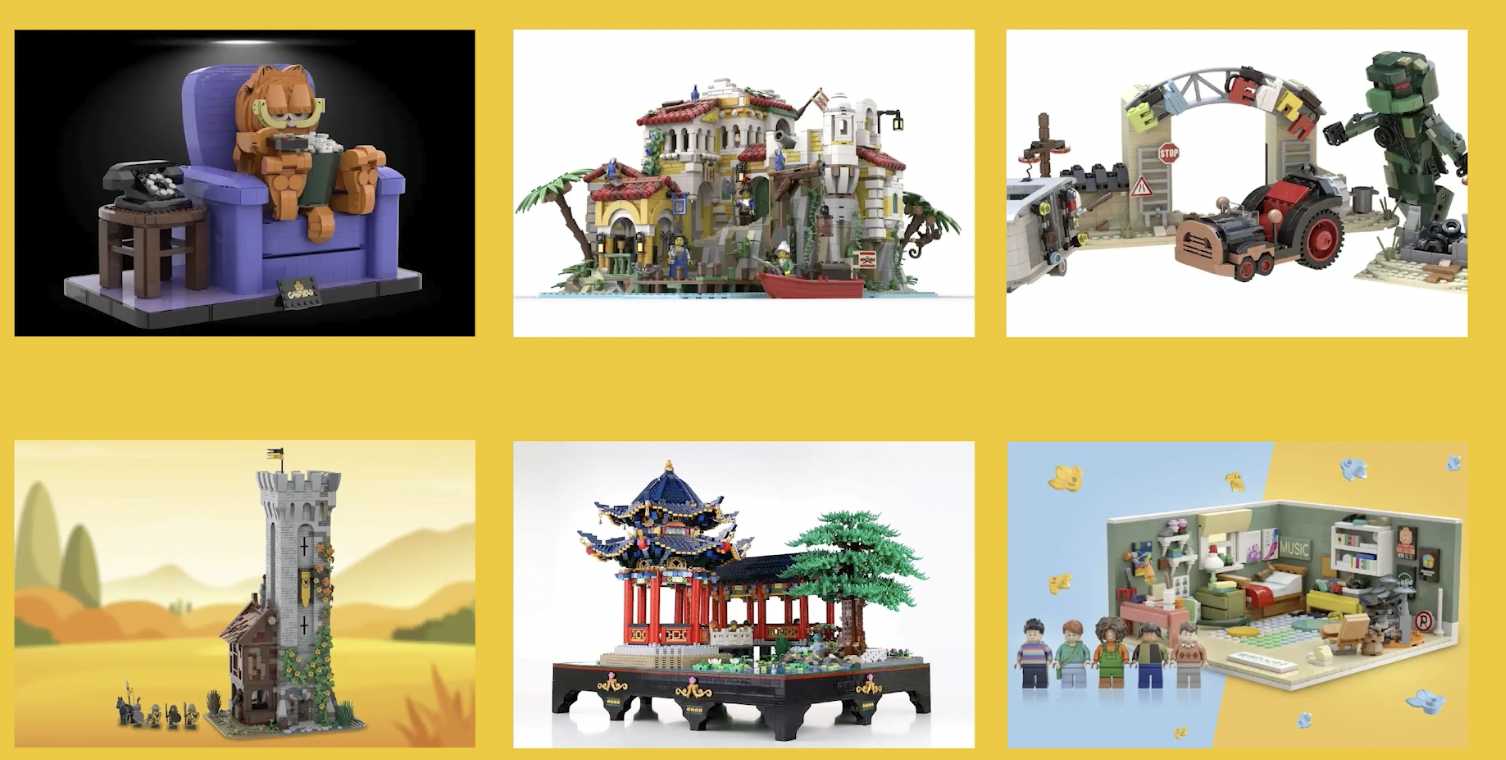 This platform is a great way to keep connecting with fans and incentivizing them to build better and better creations. Presenting a challenge and the chance at glory, alongside creating a place for like-minded individuals to celebrate their love of lego means fans are kept hooked, voicing their opinions and waiting for the next round of reviews.
It's not exactly a short process to get to 10,000 supporters so it also acts as a sense check that fans continue to showcase consistent and immense passion for those little bricks year on year.
Want to learn how you can use a platform to consistently connect with and incentivize your brand fans - without building a new app or website?


The numbers: In their Annual Results statement the brand asserts:

"The company reached more children than ever before with its large and diverse portfolio. 48 percent of products were new, designed to appeal to builders of all ages, passions and interests".
This included 7 new Lego Ideas sets, with the 2 most expensive ones (The Globe and The Motorized Lighthouse) currently priced at $299.99.
Lego has managed to channel its Adult Fans of Lego's (or AFOLs, the recognized moniker) creativity to help build a 'fantastic, diverse, portfolio' and thereby contribute to an increase in revenue by 17%, to $9.5bn (DKK 64.6 billion).
How can you steal it?
1) Find a way for your fans to creatively show their love for the brand, and channel it into new ideas. Provide a platform for them to feel seen and heard.
2) Give your fans decision making power: For example, Lego gives its fans the power to decide who deserves 10,000 votes.

3) Incentivize your fans with big rewards, like the opportunity to collaborate with the brand and feel a sense of accomplishment, a bonus would be to benefit financially too.

4) Tap into a feeling to connect with your brand fans. Lego have mastered this by honing in on adults' sense of nostalgia.

Duel can help your brand convert brand love into a powerful tool for growth too. Not every brand has the time to build an entirely new website, app or platform to incentivize and challenge its fans like Lego does.

It's why we've already created a SaaS platform that allows you to find, measure, manage, scale and incentivize every fan of your brand - so you can grow revenue and build a strong brand community.

Want to learn more? Book a call with our lead strategists today.