Blog
June 11 2022
5 Successful Brand Ambassador Program Examples
Read more
Red Bull, Harley Davidson & Peloton : How they Built a Community to Avoid Being a Commodity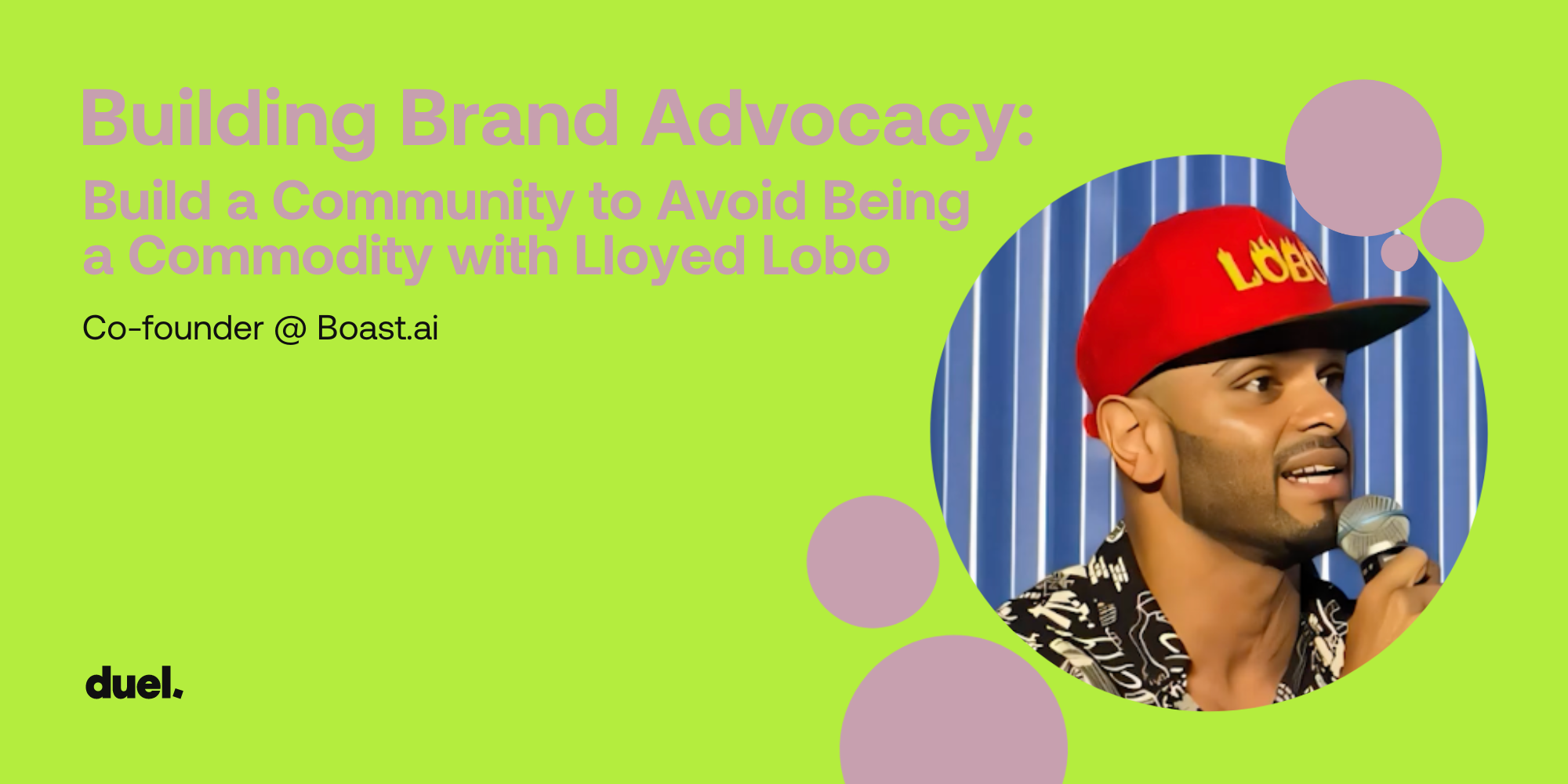 Brands like Peloton, Harley Davidson, Apple, and Nike all have one thing in common: their undivided focus on communities.
Peloton and Nike are focused on making their customers the best they can possibly be, building their health and encouraging them to better themselves. Harley Davidson is focused on bringing people together, forming a kinship between each other. Apple is focused on building their community members' aspirations. So, with this in mind, how do you want to build your brand community?
Join us in this episode of Building Brand Advocacy, where Paul speaks with Lloyed Lobo, Co-Founder and Board Member at Boast, a fintech platform that provides R&D funding to help innovative companies fuel their growth! He is also the Co-Founder of Traction; the Host of his own show, the Traction Podcast; and a member of the Board of Directors at Wishpond.
Together, they discuss the importance of building a community, and how successful brands like Apple and Nike have managed to master the process. They also delve into the current state of marketing in 2023 and how brands can do their best to thrive in the space.
If You Can Build a Community
Lloyed has a saying: if you build a community, you won't become a commodity.
He owes this philosophy to his experiences as a child, having had to leave the country due to a war, then being in multiple buildings that, in their own way, felt like subcommunities. Everyone should have been miserable, it was a horrible situation, and yet he noticed that they weren't… quite the opposite, in fact! He saw that everyone was getting along and supporting each other; they had built a strong community, one based on support so they could lean on each other in a time of crisis. It was then that he realised that life is not about the destination – or even the journey – but about the people!
If you look at your life and people surrounding you, you'll notice this more and more. You'll see that people thrive in the communities they're based in; they support each other, whether that's due to a similar interest or a similar experience, they're part of a community.
When Lloyed went through a serious depressive episode, he decided to start working out and bought himself a Peloton bike. But it wasn't just the bike that made him feel better, it was the community based around the Peloton brand that made him feel loved and supported, that helped him to get out of the mental ditch he was in and overcome his issues. Everyone – it doesn't matter who you are – needs other people to keep going and to be the best version of themselves, and brands know this all too well.
It's no coincidence that the Peloton community is so great, it was something that was carefully planned out with love.
"Consumers are saying no to the old marketing but the best brands know this," says Lloyed. "The best brands actually are in love with their customers and help them to become successful beyond their products and services".
Examples of Brand Communities
"And so I realised: brands of yesterday were built on what they told the world about themselves." declares Lloyed with a passion.
"Brands of the future are built on what the community says about them. If you think deeper, yesterday's innovation is always today's option and tomorrow's commodity".
So, with that in mind, let's look at some of the best brand-built communities at the moment, and if you have any ideas of others, let us know!
Nike
Nike is a phenomenal sporting brand, but what really makes them stand out amongst their competitors is the community they've built around themselves. You can feel a prevalent sense of self motivation to exercise in their community; they're determined, and their marketing shows it.
If you're thinking of getting yourself some Nike-wear and want to join their community, then we have three words for you: Just Do It.
Harley-Davidson
When you think of Harley-Davidson, what's the first thing that comes to mind? Is it bikers with hefty facial hair and sunglasses that have that tint of purple and green in the lenses that you've never quite been able to figure out? If so, then that means they've managed to build a distinctive community.
If the first thing you think about are a bunch of bikers with hearts of gold, then Harley-Davidson is doing it right. Their bikes are incredible, and their brand is on point!
Peloton
Lloyed's story speaks for itself when it comes to Peloton. The community that has been built around these bikes has made such a difference to so many people, after all, everyone who's bought them is just looking to better themselves. But we owe it to Peloton for giving these people a place to be supported and feel loved; not everyone is comfortable going to the gym, and a lot of people don't get that kind of motivation from people in their personal lives, so isn't it wonderful that these people have their own supportive community?
Apple
Apple is where it's at. Their products are simple, easy to use, and, more importantly, slick. Most people have at least one Apple product, whether that's an iPhone, iPad, Apple Watch, Mac – you name it, most people have one of them. They've built a community of people all over the world; all sorts of different people who can connect with each other over the devices they have.

For more insights from Richard, listen to his episode of Building Brand Advocacy via the links below:

YouTube:

Spotify:

Apple:

Listen here