Blog
June 11 2022
5 Successful Brand Ambassador Program Examples
Read more
Scaling Influence to Drive Marketing Efficiency for Luxury Beauty Brands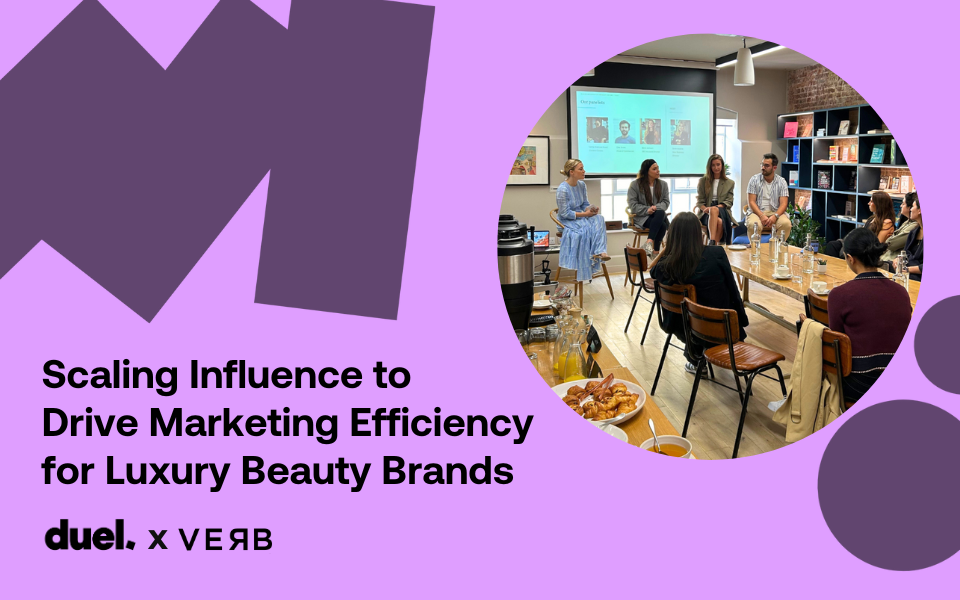 The luxury beauty sector is exploding.
Take a moment. Imagine a world where brands stand to make a killing on their influencer marketing, if only they can nail their approach to social Advocacy. Right now, you're living in it.
McKinsey & Company's 'The Beauty Market in 2023' report unveiled a solid recovery for the beauty sector, following the tumultuous pandemic era – with 6% year-on-year growth projecting a robust $580 billion valuation of the market by 2027.
The rise of sophisticated D2C marketing and new avenues of Social Commerce are fast-tracking this growth, which saw a major leap forward in 2021. Now, according to VERB's findings from Vogue Business, a new beauty brand emerges every single day.
If you're building a luxury beauty brand, now is the time to ensure your influence stands out.
Here are the tactical strategies, endorsed by our team at Duel and the talented folk at VERB, that will set you apart from your competitors…
Table of contents:

Driving the Efficacy & Efficiency of Influencer Marketing with VERB
In this ever-evolving industry, one thing is clear: beauty consumers find themselves in a maze.
Amidst the swirl of trends and novel products, the average customer grapples with confusion about their cosmetic choices. Popular Google Searches, as shared by Sheerluxe, reveal uncertainty around miracle ingredients, product use, and trend relevance. The proof? 'Is smokey eye still in 2023?' and 'What does vitamin C serum do for your face?' are still being asked today.
Enter impactful influencer marketing.
High Net Worth shoppers, as per GWI, go out of their way to seek online experts as part of the customer journey. They consume content from specialists, keep tabs on brand social media posts, and source recommendations from across platforms.
You can, and should be, taking advantage of this need for digital-first expertise for your brand.
Invite the influencers in your inner circle to educate their audiences, bridging the gap between empowered beauty knowledge and brand community. Driving more of this content? That's key to scaling brand resonance and unlocking Advocacy.
Create by these guidelines to level up your luxury offering:
Meet your customers where they are, fulfilling their needs.
Harmonize marketing across your owned, earned and paid channels.
Serve up relatable, human-led content for your community to connect to.
Boldly innovate and reject the mundane, whenever possible.

How Social Advocates are Key to Unlocking Scale with Duel
Every great brand is built on the Advocacy of customers that love them. Providing brand fans with remarkable experiences and value-packed opportunities for connection, and you'll have the ability to build Brand Advocacy at scale.
Fun fact: revenue from Social Commerce like this will more than double from $492 billion in 2021 to $1.2 trillion by 2025, according to UM Agency's research. At the same time, consumers will increasingly buy from sources they trust. Edelman's Trust Barometer 2022 found only 24% trust advertising, while 92% trust a recommendation from a friend, expert, or professional.
Tap into the underserved and underutilized goldmine of social-native Advocates, micro-influencers and niche communities your luxury beauty brand has by giving them somewhere to belong. Advocacy programs are fuel for igniting fierce brand loyalty, beyond traditional realms.
Here's something we like to call 'The Anna Equation'.
Meet Anna, your brand ambassador. Thousands follow her across Instagram and TikTok, and she's signed up to your Advocacy program. She's prompted to create several pieces of brand content across her channels, and she does. Anna's content sparks $4k+ value across 12 months. You've only spent $225 incentivizing her – $25 on an affiliate payment, $200 on product gifts.
Now, picture 1,000 Annas. That's $4m+ value driven for only $225k invested in Advocate rewards.
That's how harnessing social Advocacy works to support scale.

Influencer Marketing & SEO: Luxury's Power Duo
There's huge value to be found in forging a power duo from your influencer marketing team and SEO department. VERB'S SEO Account Director, Becs Jackson, knows this firsthand.
As the social and search landscapes continue to evolve, Becs believes "it's no longer about what content you have on-site. It's about how users are engaging with your social media."
The ascent of AI means search engines have shifted to consider all brand signals in your rankings – including your off-site social presence. If your site and social platforms are not optimized with valuable, engagement-driving content, Becs says "Google's evolved enough that it's understanding that, and you're at risk of not being served to users".
So, how should influencer and SEO teams be liaising for maximum impact?
"Your SEO team should be feeding data to your influencer [team], to your content [team]", Becs explains. "Have a look at seasonal trends and keywords. What are your users searching for?" Use socials to give customers the answers they're after, while designating a similar FAQ section on-site, and you're onto a winning strategy.

Utilizing User Generated Content
User Generated Content is having a well-earned moment. While some of the UGC created for your luxury brand will match your aesthetic, it's likely the majority would typically be deemed unusable.
So, how can luxury brands rock more lo-fi UGC content? Becs says, "bring that on-site. Why are we having those things siloed?".
It may sound controversial for a luxury brand, but Becs' advice is research-backed. The mere presence of UGC on your website impacts your bottom-line, with Power Reviews finding a 3.8% lift in conversion among site visitors who were served any kind of UGC. The kicker? When those visitors choose to interact with the UGC, they convert at a rate that's 102.4% higher than average.
"Don't have your on-site performance completely separate from your social channels", Becs implores. "They really should be working together." Now, luxury brands have the chance to challenge the status quo and place themselves firmly at the forefront of innovation.
When it comes to concerns over the quality of authentic UGC, know they are mostly unfounded. TINT's '2023 State of Social & UGC' report found authentic UGC is considered more trustworthy than staged.
Duel's Head of Growth, Ollie Smith, has found the same across Duel's work with hundreds of brands. "The quality of the content can be poor", Ollie knows; "but it converts really well, because the customer is a real human being who wants to see that product being used by real people."
Real people. Real products. Conversion dynamite.

Why Beauty Brands Fall Down With Their Influencer Marketing
There's a problem in luxury influencer marketing – the traditional playbook demands hefty investments for uncertain payoffs. Even the savviest of brands can stumble into a few traps here, playing by outdated rules.
In Ollie's experience, these are the most common ways influencer success is derailed:
"A lack of personalization. There's a 'spray and pray' approach we see a lot with brands not really setting out clear, defined objectives."
"Thinking Reach is everything. Reach is fantastic if you're looking to drive brand awareness, but then what?"
"Many brands are hamstrung by very senior people who don't understand the finer points. They think, 'influencer marketing means we find the biggest audience possible!'. They then struggle to get approval to work with lo-fi creators – you know, people making real content that does engage and does very well – because it's not on brand."
To avoid these pitfalls, follow these principles: prioritize personalization, measure marketing results in Earned Media Value, and fight for the approval to work with smaller creators packing a real punch.

Maintaining Control over Brand & Content during Scaling
At legacy brands, it's crucially important to strike the right balance of maintaining brand and branching out for growth. Being aware of how your brand is perceived in most interactions is important. It's also an area every brand has less control over than they believe.
"I totally get the concerns around brand", Ollie notes; "But you can't control what people are saying about you, so why not educate them on it?"
While it can be worrisome, relinquishing brand guidelines to gamble on growth, these organic conversations are happening already. "They're happening amongst friendship groups", Ollie knows, "wherever it might be on social media. These people are Advocating for you – and they might not be Advocating in the way you want them to, but why not bring them closer to the brand and educate them, so when they are Advocating they're doing it in a more authentic way?"
"What some brands can forget", Ollie shares, "is you don't grow as a brand, and you don't remain relevant, unless there is passion and love from your customers."
Summary
If you're a luxury beauty Brand Builder, take note. These strategies are your golden ticket to scaling up and supercharging your marketing's efficiency.
Dive headfirst into a community-centric approach that not only embraces your customers, but serves up the expert advice they crave. Watch your influence skyrocket, leaving a trail of powerful Advocates in its wake.
Ready to take your luxury community-building game to the next level? Check out our Community Marketing Essentials. Master the tactics. Reap the rewards.