Blog
June 11 2022
5 Successful Brand Ambassador Program Examples
Read more
The Swarovski Crystal Society makes an estimated $27m in membership fees alone. Here's how.
Swarovski is one of the biggest luxury brands on the planet, reporting a staggering $1.9bn in sales for 2022.
Specializing in high-quality lead crystal to craft jewelry, home decor and more, the brand has been around since 1895 and competes against heavyweights Tiffany & Co, Cartier and Bvlgari to dress celebrities like Dua Lipa, Lady Gaga and Beyonce.
The brand's crystal jewelry and figurines have garnered a cult-following through a paid membership program boasting 500,000 members. One could say, (well, we are saying) it's the brand's unsung hero. This article explains just why - and how you can replicate it.
Table of Contents
Swarovski Crystal Society

The 'what': A community of fans that love crystal. Membership unlocks a host of benefits, rewards and opportunities that are exclusive to the community - and out of reach for fans that aren't members.

How does it work: Members pay an annual fee of $55, or $125 for a 3 year membership to access exclusive crystal collections, created just for program members, and a magazine filled with inspiration, member interviews and competitions released twice a year.

Also up for grabs is an annual gift that is not available for purchase outside the program.
Alongside these, members also benefit from a free repair service, free shipping and get to visit Kristallwelten (the Swarovski museum) in Austria for free once a year.
Last but not least, membership fees and proceeds from SCS also contribute towards The Swarovski Waterschool - a global initiative founded in 2000 with the goal of empowering children and their communities with the knowledge and resources they need to address their local water challenges.
The genius: Think of it as bottling FOMO into a glossy membership program. Exclusive, member-only collections means that die-hard Swarovski crystal fans can't afford not to join. It can be up to 25x more expensive to acquire new customers than to keep an existing one, and Swarovski have designed incentives to reward customers for staying with them, over and above just being given points. The brand builds an exciting experience around museum visits, exclusive gifts, events and the 'Swarovski lifestyle' through the magazine. After all, brands that provide positive experiences receive 3x more word-of-mouth marketing than brands that offer mediocre ones.
Want to leverage your own brand fans' word-of-mouth marketing? Use Duel's
to work out how much revenue the fans, who already know and love your brand, could be driving.
It's a little unusual for luxury brands to build programs of this kind, and yet, Swarovski's approach through a paid membership, rather than a free loyalty program strikes the right balance. It's aspirational, maintaining the brand's identity within the luxury category, but still caters to the customers that crave regular engagement and emotional connection (and have a 306% higher lifetime value).
The numbers: Let's break down the numbers when it comes to membership fees alone, not even considering repeat purchases of SCS products:

If we assume that all members pay the annual membership fee, then Swarovski would generate $27.5 million in membership fees each year. However, some members may choose to pay for a longer period of time, so let's account for that too. The figures are still pretty incredible when it comes to estimated revenue.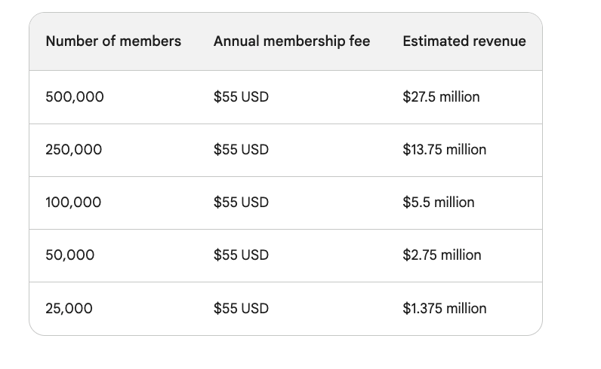 How can you steal it?
1) Build members-only product collections: Like Swarovski, create that sense of FOMO and play on the prestige of being in the club (in their case, society).

2) Build a program that offers experiences as rewards: Can your customers come to HQ for the day? Can they come to an exclusive fireside chat with the brand? It's all about finding the right balance between financial rewards and opportunities to build the emotional connection - and creating value with both through the program.

3) Consider two programs and divide them into a paid offering and a free one. A paid offering suggests a 'premium' experience and caters to the customers who are inherently more loyal, while a free one caters to the masses. Segmenting your audiences in this way provides ample room to nurture, as well as a rich source of customer data on the two segments.

4) Don't make it just about the brand: Like the Swarovski Waterschool - think about altruistic initiatives that align with your brand values you can incorporate into a program.
You can see from the table above, the more members your program has, the more revenue you can accrue. However, managing so many members sounds like a spreadsheet nightmare right? Well, Duel has created software for that.
We've built a SaaS platform that allows you to find, measure, manage, scale and reward every fan that loves your brand - so you can grow revenue and build a strong brand community. We help structure and build your program on the platform so you can simply set it live and watch the magic happen.
Duel can help your brand drive connection and hone in on the right rewards for your brand fans, for you.
Want to see the revenue potential you could unlock with our platform? We've built a calculator to work out how much revenue micro-influencers, who already know and love your brand, could be driving.