Blog
June 11 2022
5 Successful Brand Ambassador Program Examples
Read more
Richard Chapple, ex CMO of Gymshark, on the secrets to building 3x Billion dollar brands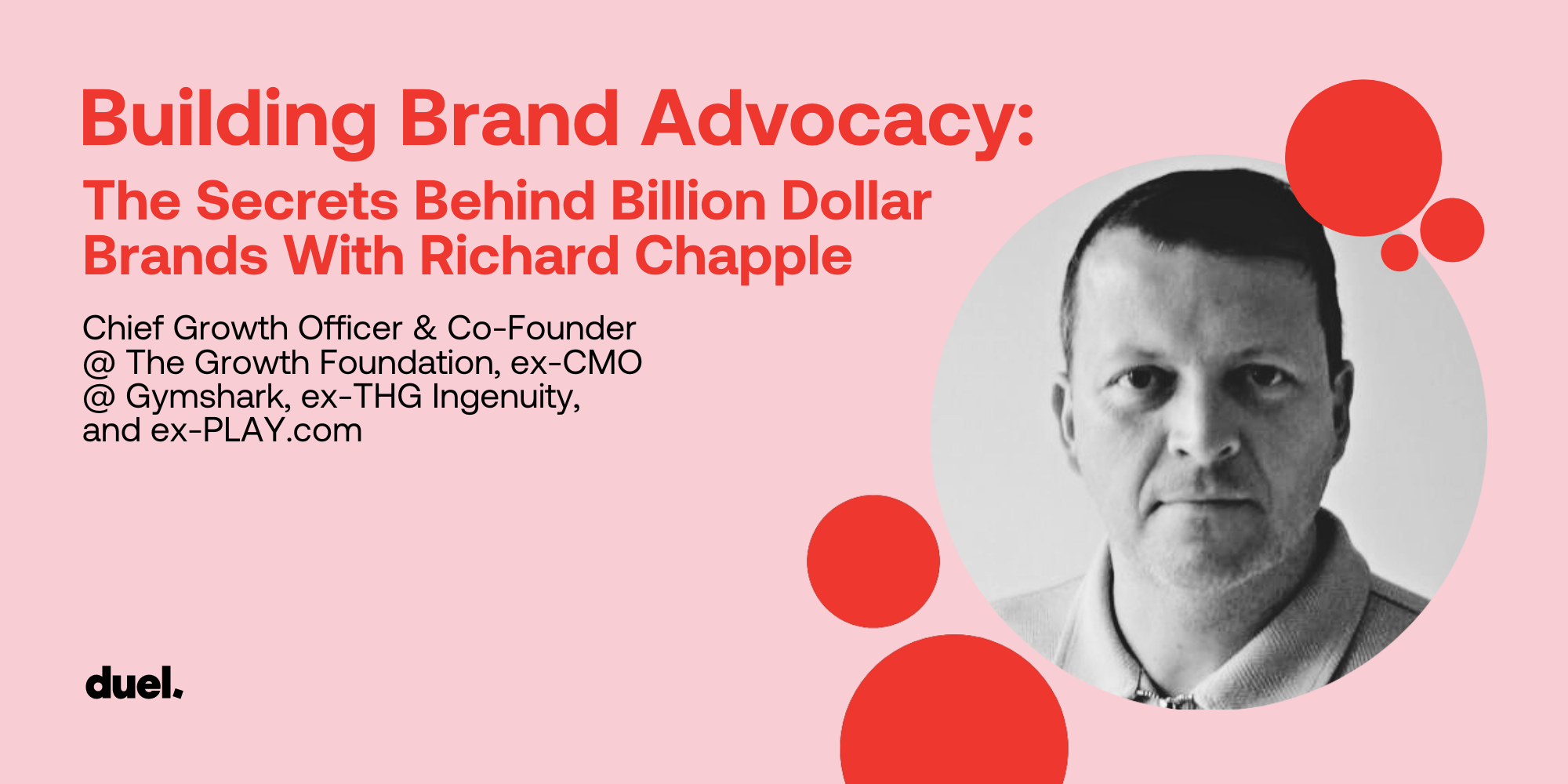 What makes brands like GymShark so phenomenal? According to Richard Chapple, it all comes down to three things: timing, hard work, and bravery.
Advertising to your consumers is a skill; it requires a hell of a lot of practice and knowledge that you won't know right away, so the best thing you can do is amplify the benefits of your product whilst suppressing their anxieties. Make the consumer feel as though they can trust you, that they are in for nothing but a good time should they choose you. If you feed into a niche in your industry, as well as tapping into the consumer's subconscious, then you're on the right track.
Join us in this episode of Building Brand Advocacy, where Paul speaks with Richard Chapple, Chief Growth Officer and Co-Founder of The Growth Foundation, an organisation working with high-potential businesses to show them the right way to grow across all their foundations with spectacular results. Prior to this, he was the Chief Marketing Officer at GymShark (which needs no introduction), and he is currently the Non-Executive Director at Health & Her, a Board Advisor at vast:visibility, and a Patron at the Academy of Music & Performance.
Richard is a guru of growth - what he doesn't know about D2C doesn't exist.
Together, they discuss what has and hasn't changed in the world of D2C, how brands can skill themselves up in a constantly evolving world, and why you should always amplify the benefits of your product in order to quell the consumer's fears. Richard also offers some valuable insights into the challenges of managing content across a vast variety of marketing channels.
Care and Obsess Over Your Customers
According to Richard, the brands that are the most successful – those like GymShark – owe their successes to their genuineness; they actually care about their customers, they want them to be okay and have the best experience!
In fact, this has always been the case. If you, as a brand, communicate effectively with them, if you show them that you care, then you're almost guaranteed to establish a solid relationship. The only thing that's actually changed in this regard over the years is the introduction of online and digital marketing. Now, not only are there a bunch of tools at your disposal (social media, CRM, email marketing – you name it), but your customers expect direct contact, whether that be through Twitter (Well, X if you want to get technical but, let's be honest, who is actually calling it that, apart from Elon Musk?), Instagram, Facebook, or TikTok. If you're a brand, you need to have an online presence and a timely response rate.
You also need to be obsessed with who your target audience is; knowing the buyer and obsessing over them is something all businesses should be doing, regardless of what their product or service is. Richard says that you have to think about the benefits of what your product brings, getting under the skin of your audience and figuring out what makes them tick, whether that be consciously or subconsciously.
He says you have to
"[Amplify] features and benefits, [and suppress] anxieties. Great marketing and great brands really pay close attention to that across the funnel."
The 3 Key Attributes of Brand Success
Once you've figured out how you want to communicate with your target audience (granted, after obsessing over them), it's up to you to put the attributes of brand success to good use.
Oh, you want to know what they are? Don't worry, we've got you covered (or, rather, Richard and his time at GymShark does):
You need to always have your finger on the pulse of trends and your industry. You need to make sure you can jump on something at the right time in order to gain traction - but don't blindly jump onto it! Just because something is trending, it doesn't mean you should jump on the bandwagon. Wait it out if you're not sure, and then go with your gut. If you can figure out the best moment to do something, and it's executed well, you're onto a winner.
Really, this goes without saying. If you want to achieve anything in life, you need to work hard for it - the same goes for your brand! If you put in the time and effort, if you ensure you try your very best at what you do (whilst of course, taking the necessary, vital breaks that everyone needs to avoid burnout) then you can succeed like those brands you look up to.
Every entrepreneur and brand alike knows that calculated risks are part of the job. You can't succeed without taking a few risks and experimenting with different methods of branding. These risks require a high degree of bravery; are you ready to take the heat that comes with it?
For more insights from Richard, listen to his episode of Building Brand Advocacy via the links below:
Spotify:
Apple: